The director speaks to Screen in Cannes about his new film The Death Of Louis XIV, which plays as a Special Screening.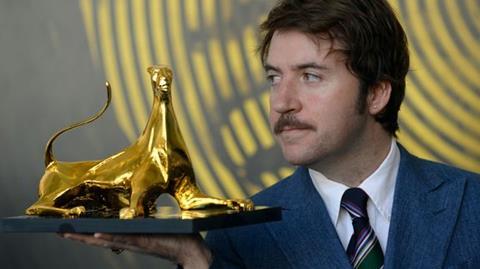 A performance commissioned for the Centre Georges Pompidou that never saw the light of day was the starting point for The Death Of Louis XIV, by Catalan film-maker Albert Serra [pictured collecting his Golden Leopard in Locarno in 2013 for Story Of My Death]. Serra's latest film paints a masterful portrait of the slow and painful death of the Sun King at the hands of his incompetent doctors. Iconic French actor Jean-Pierre Léaud plays Louis XIV, commanding scenes with his regal presence and servicing both Serra's sense of humour and his taste for tableaux.
The Death Of Louis XIV could see Serra reaching a wider audience, beyond the auteur and festival circuit. Produced by Andergraun, Capricci and Rosa Filmes, the film is sold by Capricci.
How did you make the transition from a museum performance to a film about the death of the Sun King?
The original project already had Jean-Pierre Léaud in it. He had to perform the death of Louis XIV over the course of 15 days. Visitors could see him perform and the idea was to film the whole thing.
When the project fell through, the story stayed with me and we still had some budget left, so four years later I took it in hand again with the same idea at the core: the death of Louis XIV in a single location, mainly his bedroom, and condensing the 15-day span to an hour and a half in a conventional fictional narrative.
We have tried to be accurate both in the screenplay [written by Serra and Thierry Lounas] and the production design, in which I got involved myself. I'm also very happy about the cinematography [by Jonathan Ricquebourg]. A lot of people have mentioned Rembrandt as a reference but the truth is that was not on my mind despite the fact that I'm more influenced in my work by art than I am by film history. More than Hitchcock, I grew up loving avant-garde artists.
In your film, the almighty Sun King faces the moment in which he's slowly losing everything. There's a sense of the everyday life of a historical character and a subtle sense of humour, too. How keen were you to explore all this?
The idea of absolute power combined with a state of total physical helplessness was very attractive. It's also a kind of little revenge that we artists can take in front of the powerful: to show them that, facing death, we are all the same. I also wanted to escape the cliché that a palace runs like clockwork. He calls for water and they take forever to tend to him, for example. It was his sunset but that of the system surrounding him as well.
About the sense of humour: irony is very present in my filmography, even in subjects like death. Jean-Pierre Léaud's performance worked in that sense too. He was very original in the way he played with his own persona and that of his character.
When Léaud at one point stares at the camera, you are making reference to the history of French cinema, linking that scene with his role in Francois Truffaut's The 400 Blows.
Yes, it's one of the moments in which the interaction of the iconic charge of the actor and that of his character is most powerful. I liked the idea of him escaping the contemporary and urban image he is so associated with and working with him in a radically different context.
Could the film have a wider distribution, given that it's more accessible than your other films?
How it works in Cannes will be decisive in that respect. I know there has been interest by international distributors at the market, more than I had experienced with other of my films. The theatrical release might be different too, more ambitious. We'll have to see. In France, say, whether we come out eight or 10 prints or 50 is yet to be decided.
Are you already working on another project?
Yes, a film called I Am An Artist, about the world of contemporary art in today's society. We are working on the pre-production and I'm aiming to shoot in 2017. It's a comedy, a farce about how an artist comes to be. Is it the rest of the world that decides who is an artist or yourself? I'm in it as a producer as well and we are looking for more partners, a co-production, possibly with Portugal, France, Germany and maybe an American producer too.