EXCLUSIVE: Gaumont unveils Lemercier comedy Homecoming [pictured] and Kev Adams's feelgood drama To The Top.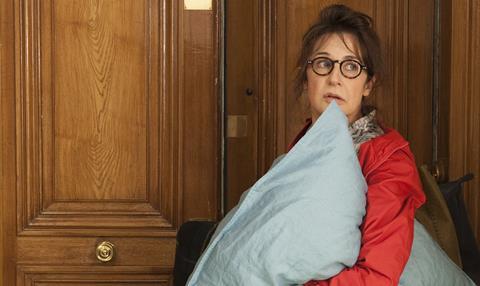 Gaumont has launched sales on Valérie Lemercier's comedy Homecoming about a woman in her 50s who goes through a second youth when a change in professional and personal fortunes forces her to move back in with her parents.
It marks a fifth time in the director's chair for popular French actress Lemercier after comedies including Palais Royal! and The Ultimate Accessory.
Lemercier also stars as the central character of Marie-Francine who has to contend with her over-bearing parents while rebuilding her life.
Edouard Weil's Rectangle Productions is producing the film which began shooting April 20 for delivery in the second half of 2017.
Gaumont has also taken on sales of Serge Hazanavicius's To The Top starring box office draw Kev Adams as a champion snowboarder with aspirations of taking on Mount Everest.
He heads to the French snowboarding Mecca Chamonix where he will have a life-changing encounter with former free-ride champion-turned-mountain guide Pierrick, played by Vincent Elbaz. Hazanavicius's sister-in-law Bérénice Bejo also features in the cast.
Julie Gayet and Nadia Turincev's Paris-based Rouge International is producing the film. Adams's My Family and India's Reliance Entertainment are on board as co-producers. UGC will release the film in France.
Other titles on Gaumont's slate include Eric Toledano and Olivier Nakache's previously reported C'est La Vie, a comedy set over the course of a crazy night at a lavish wedding party, seen through the eyes of the photographer, caterer and DJ.
Judith Chemla and Benjamin Lavernhe play bride and groom in the ensemble cast also featuring Jean-Pierre Bacri, Suzanne Clement, Gilles Lellouche and Judith Chemla.
Nicolas Duval-Adassovsky, Laurent Zeitoun and Yann Zenou at Paris-based Quad are producing the $14m picture, which will be ready in the first half of 2017.