EXCLUSIVE: Mini studio will back mid-budget projects from young European directors.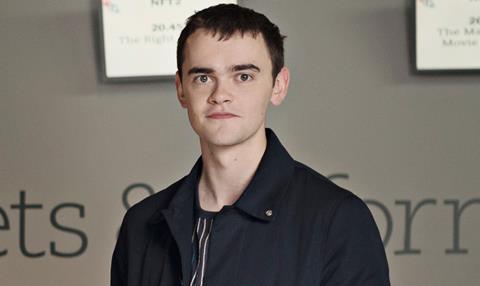 French producer Alexis Perrin and entrepreneur Frederic Fiore have joined forces to create mini studio Logical Pictures, aimed at English-speaking elevated genre pictures, budgeted at between $900,000 and $13.2m (€0-€15m) by young, up and coming European directors.
The company makes its Cannes debut with five new projects led by futuristic Ickerman, described by Perrin as "Bullitt meets Blade Runner", and Winter's End, about four orphans who discover they are the children of resistance fighters in a near future world run by The Phalanx.
The latter title is the debut feature of award-winning French music video directorial duo Fleur & Manu and stars actors Dean-Charles Chapman and Brian Vernel, who was one of Screen International's Stars of Tomorrow in 2015.
"The idea is to invest in elevated art-house genre pictures with crossover potential in the vein of Let The Right One In, Green Room or The Lobster," said Fiore.
The serial entrepreneur Fiore — who other interests include the pan-European childcare specialist Babilou and Lyon-based Capitem investment fund aimed at small and medium-sized investments, is currently in the process of pulling together a $17.6m (€20m) capital fund for the company.
"We've already secured 30% and are launching the roadshow now," said Fiore. "The idea is to gap finance about 15% of any movie. We have two focuses, firstly to develop features and TV series in-house and also gap finance third party projects at a later stage."
Perrin worked at French special effects company BUF before setting up his own production company Rumble Fish in 2014, producing Jean-Luc Herbulot's Paris-set thriller Dealer and also masterminding a 70-territory digital roll-out for the film on supports including iTunes, Google and Amazon.
"Many of the projects were developed first at Rumble Fish. I received a lot of projects after Dealer from young directors who wanted to make a genre film, while Winter's End with Ran Entertainment," said Perrin. "When we decided to work together we decided that this bridge between genre and arthouse would work best. We were looking at the Jason Blum model without the horror."
Fiore said Logical Pictures would have two focuses, to develop features and TV series in-house and also gap finance third party projects at a later stage, coming from the US, UK and Europe, bringing in €500,000 or €1m to bridge a gap.
"The idea is to be as industrial as possible and to make five to seven projects a year so at the beginning it will be gap financing projects and gradually financing inhouse projects. We want to mutualise five to seven projects a year," he said.
"That's very unique in the landscape, especially in France, and especially for elevated genre, where the focus has traditionally been on family comedies, even though there are lots of new directors who want to move into genre. They know that is the kind of movie the audiences want.
Perrin says there is already strong interest in both Ickerman and Winter's End. A proof of concept trailer for futuristic sci-fi drama Ickerman was viewed more than a million times online.
"The idea with Ickerman is to make it in a city like Dubai. It is set in a world in which everything is automatic and virtual but the hero is a sort of Don Quixote with a love of old cars," said Perrin.
In one of its first investments, Logical Pictures helped fund a $900,000 (€1m) 10-minute pilot trailer for Winter's End shot in Bulgaria which has also been drumming strong interest.
"It's a new model for financing the feature. It shows that the directors are capable of cast, to direct in English and create an amazing world, which is sort of an auteur Hunger Games," said Perrin.