EXCLUSIVE: The Hobbit star to topline zombie thriller from The Babadook producer; Bankside launches sales.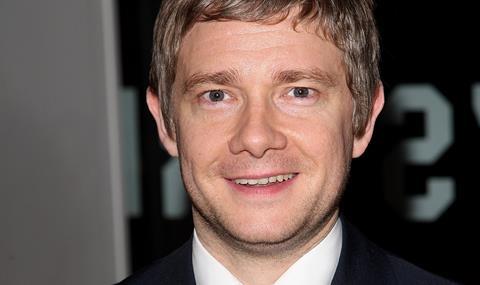 The Hobbit star Martin Freeman is attached to star in zombie pandemic thriller Cargo from producer Kristina Ceyton (The Babadook).
Bankside is launching international sales on the project in Cannes and has pre-sold UK rights to Icon Film Distribution, which had success at the local box office with The Babadook. Umbrella Entertainment will release in Australia/New Zealand.
The feature is based on Yolanda Ramke and Ben Howling's short of the same name, which clocked more than 10 million views on YouTube. Howling will direct with fellow first-time feature director Ramke, who has also written the script.
Freeman, who stars alongside Benedict Cumberbatch in hit BBC series Sherlock, will play a father who, stranded in rural Australia in the aftermath of a violent pandemic and, infected himself, desperately seeks a new home for his infant child and a means to protect her from his own changing nature.
Sam Jennings of Australia's Causeway Films produces with Ceyton alongside Russell Ackerman and John Schoenfelder of LA-based Addictive Pictures. The film is set to shoot in Australia in fall 2016.
Financiers include Screen Australia, South Australian Film Commission and Head Gear Films. CAA and Bankside co-represent North American rights.
Bankside's head of sales and marketing, Stephen Kelliher, said: "We are delighted to be working with the producers of The Babadook on Cargo. These filmmakers have a distinctive and elegant approach to the genre that we are certain will excite distributors and audiences worldwide."
Ceyton added: "Martin Freeman is a singular talent who will add such depth and emotional sophistication to the role, and we know will make this story come alive in an unexpected and deeply moving way. We look forward to working with our partners Addictive Pictures and Bankside Films on this very special project."
Bankside's Cannes slate also includes market premiere screenings of Christopher Smith's Detour starring Tye Sheridan, Bel Powley and Emory Cohen, Tiger Raid by Simon Dixon starring Brian Gleeson and Damian Molony and Where The White Man Runs Away by Brian Buckley starring Evan Peters, Al Pacino, Melanie Griffith and Barkhad Abdi which is in post production.
Meanwhile, Saban Films has finalised a deal here in Cannes for North American rights to the company's John Michael McDonagh comedy War On Everyone.