The British actor and filmmaker reveals why he chose to centre on a boxer for his second film as a director and taking on the challenge of directing himself.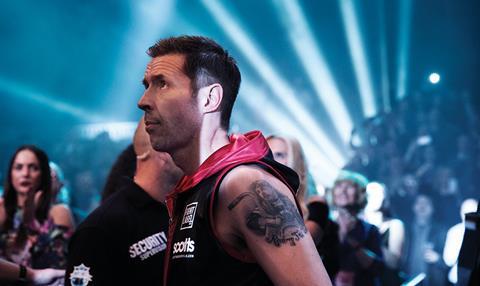 Paddy Considine is "not a massive fan of boxing movies". So it is perhaps strange that the British actor, known for intense roles in Dead Man's Shoes, The Bourne Ultimatum and Macbeth, has chosen not only to write and direct a film about a boxer but also star in the leading role.
"That might sound a bit odd," he says. "But in Journeyman we're not building some narrative where the character is redeemed by an ultimate fight. The fight begins when the boxing match is over."
Journeyman, of which Cornerstone Films is screening the first-look promo at the Cannes Market this week, stars Considine as middleweight boxing champion Matty Burton.
As he approaches the end of his career, Burton knows he must make his money and get out of the game, to secure a home and future with his wife and baby daughter. But after a titanic bout, Matty collapses on his living room floor, a delayed reaction to a devastating punch.
Awaking from the coma the real fight begins. Suffering from memory loss and with his personality altered, the fighter must begin to piece his life back together as his world disintegrates.
"It starting brewing a very long time ago and it's been around in my mind as a project for a few years," says Considine, a life-long fan of the sport.
"Earlier this year, a friend reminded me of it and it seemed like the right time to revisit it as an idea. I suppose being a boxing fan, I was always aware of the dangers of the sport and was aware how injuries occur in the fight game, very highlighted within the boxing world when one such incident happens when a fighter does get injured."
One particular incident stuck in his mind. "I was a teenager and a big boxing fan at the time when Michael Watson suffered his injury against Chris Eubank," he recalls of the 1991 bout that left Watson in a coma for 40 days.
"I was always left with a lasting image of Michael on the pitch at Arsenal. He was making a recovery at the time but was still wheelchair-bound. I wondered what happens in that situation when the crowds disappear, when the adulation's gone and it's just you and the people around you that love you. That's the basis of how it started to generate."
Loss of self
Writing the script, Considine soon realised that the story would be about "the loss of self, having to find a new way to remember who you are despite the disabilities".
"It was about coming to terms with the massive change in your physicality and it became about memory as well as the things that are ultimately the most important – the loves in our lives, our families and children more than titles and trophies."
Avoiding the role
Journeyman marks Considine's second feature after Tyrannosaur – the powerful story of domestic abuse and an unlikely friendship starring Olivia Colman and Peter Mullan, which won the filmmaker the Outstanding Debut Award at the BAFTAs in 2012.
Considine was not in the cast of Tyrannosaur but seemingly could not avoid taking the lead in Journeyman, despite some serious consideration.
"I tried every way not to play the part, believe it or not," he says. "When I write, I do have people in mind. When I wrote Tyrannosaur it was for Peter and Olivia. When I wrote Journeyman it was myself and I had an image of Jodie Whittaker as the fighter's wife in there.
"I was the only person in my head as I was writing it and that started to distress me somewhat because I didn't ever imagine I would want to be in a situation where I was directing as well as acting in a film - effectively directing yourself.
"I didn't want to do it. I was thinking of lots of other actors to play the role but ultimately I realised I was running from not playing the part for all the wrong reasons. It was fear keeping me from committing to doing it.
"I was at a time in my life where I thought, if you keep running that's fine but don't you want to find out if you can do this, don't you want to find out if you have the capability to direct yourself as well as act in something and you're making and writing. Why are you shying away from that?
"This is a gift. If another filmmaker had come to me with the same script I'd have jumped on it. My only reservation was fear. So once I accepted the challenge and it worked out great. I was always meant to play the role. I would have always regretted not doing it."
Eye of the storm
After casting Jodie Whittaker (One Day), Anthony Welsh (My Brother The Devil), Tony Pitts (War Horse) and Paul Popplewell ('71), the film was shot over six weeks in Sheffield, Leicester, Doncaster and the surrounding areas, wrapping mid-April.
Considine recalls the differences between his two directing experiences. "With Tyrannosaur, I was outside looking in, so had more of an overview of it. When you're in it, you're not stepping outside it, you're not at the monitor watching it happen," he says.
"But I enjoyed both ways of making films. It didn't bother me being in it. In fact, it had a different insight for me as I was right in the eye of the storm. It was all a great experience. I wouldn't put off directing myself in something again."
Training
As an actor, Considine had to get in shape for the role, but is keen not to dwell on the fact.
"I'm not a massive fan of when someone makes a boxing film and the headline is about the actor's physical transformation," he says. "I always think there's something wrong with the film if that's all we're talking about. If that's the selling point of the movie, that rings alarm bells for me.
"But I had to train. I had a 10-week training camp and trained with Dominic Ingel, who trained the current welterweight champion Kell Brook. So I trained up there with him and Greg Marriot the nutritionist. I was training five days a week for it. That was valuable.
"What that actually did, more so than get me in shape to play the role, was it got me in the right mental shape to play it. I was getting up and training at six in the morning. Rather than tiring me out, it gave me a lot of energy."
Boxing movies
Despite Rocky behind one of Considine's favourite films and "incredibly influential on me as an artist", he maintains that he isn't a big fan of the genre.
But, he is quick to point out, "Raging Bull isn't about boxing. It's nothing to do with boxing as far as I'm concerned."
"Journeyman didn't come from a desire to make a boxing movie," adds Considine. "But it provides the perfect backdrop for this story of somebody coming to terms with their new self."
Journeyman will be released in 2017 and is financed by Film4, the BFI, Screen Yorkshire, and the Wellcome Trust with Studiocanal on board to handle the UK release.