Dir: Antonio Chavarrías. Spain 2011. 95 mins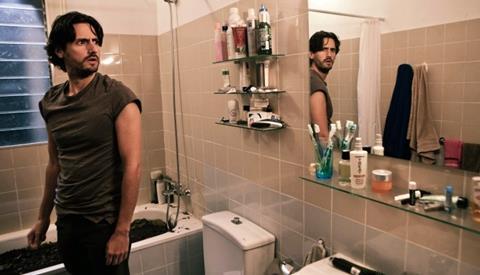 Playing childish innocence against adult guilt has been a staple of psychological horror ever since The Turn of the Screw, and it's been a reliable ploy for recent Spanish chillers - notably The Orphanage and, before that, The Devil's Backbone. Considerably less Gothic than those films, Childish Games (Dictado) could nevertheless very modestly emulate their success in sales terms, if only because it's a relatively efficient reworking of familiar tropes. But, once it's set out its initially enigmatic premise, Childish Games doesn't do much more than run through its moves to increasingly routine effect.
Childish Games finally falls short on really adult ingenuity.
After a distractingly confusing prelude involving a father and son – their identity doesn't come into focus until much later - the story kicks off by introducing us to likeable youngish couple Daniel (Botto) and Laura (Lennie), both teachers. At school, Daniel is approached by a wild-eyed man from his past, Mario (Rodríguez), who's agitated about his daughter.
Mario soon takes his own life, in a set piece that's one of the film's more effectively shocking moments, and Laura, who's desperate for a child, suggests that she and Daniel temporarily adopt the dead man's traumatised young daughter Julia (Pérez). Daniel agrees, but very reluctantly, for reasons to do with his own childhood memories: as boys, he and Mario were involved in an incident involving the death of the latter's sister Clara. As Julia moves in, bonding with Laura but definitely not with her new adoptive dad, her behaviour becomes increasingly troubling – and Daniel's becomes pretty erratic too.
Could it be that Julia is the vengeful reincarnation of the dead Clara? And who's really in danger from whom? Maybe it would be better if everyone just took a nice relaxing break in the country. That should certainly resolve tensions – and there couldn't possibly be anything to fear from a cobwebby old house and a dizzying nearby clifftop, could there?
The most interesting psycho-chiller spun here is that director-writer Antonio Chavarrías has crafted his story as an implicit juvenile Vertigo, with one child seemingly possessed by another. To that effect, there are creepy elements such as the appearance of a red ribbon common to both girls, and the eerie recurrence of a nursery rhyme (the 'dictation' of the film's Spanish title), not to mention some distinct Bernard Hermann tinges in Valent and de la Riva's over-emphatic and by-the-book score.
Chavarrías's most distinctive stylistic decision is to establish a largely naturalistic base note for the film, shooting the school sequences at the start in quasi-documentary hand-held style, to suggest that there's no room for the supernatural in this very solid world. But when things get spooky, he overplays his card too obviously – the minute we see Mario's flat bathed in blue-ish light, we know he's a goner.
There are a few moderate frissons along the way – one in a dream sequence with a nod to Carrie – but no real scares, and nothing in the mechanical execution to make us really wonder what's at stake. A likeable rather than magnetic cast never lift this out of the ordinary, and Childish Games finally falls short on really adult ingenuity.
Production company: Oberon Cinematográfica
International sales: Filmax International, filmaxint@filmax.com
Producer: Antonio Chavarrías
Screenplay: Antonio Chavarrías, from a story by Sergi Belbel
Cinematography: Guillermo Granillo
Editor: Martí Roca
Production designer: Isaac Pierre Racine
Music: Joan Valent, Zacarías M. de la Riva
Main cast: Juan Diego Botto, Bárbara Lennie, Mágica Pérez, Marc Rodriguez, Ágata Roca