Hollywood holds top three spots; The Mummy scares up $50m; Pirates 5 hits $160m.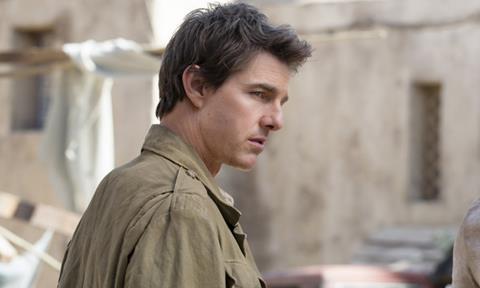 After enjoying a strong week brought on by the Dragon Boat and Children's Day holidays, the Chinese box office scaled back by approximately 32% week-on-week in the period of June 5-11.
The Mummy arrived at number one on Chinese soil, taking $51.45m from its three-day opening weekend. This marked the best debut for Tom Cruise who needs no introduction in China. His Mission: Impossible – Rouge Nation, which opened on a Tuesday, took $79m from its first six days in 2015.
Its opening debut also made China the top market worldwide, bigger than North America's $32.2m. But its generally poor reviews may soon slow down its momentum.
The film is Universal's first reboot of its "Dark Universe" classic horror franchises. The Chinese title means The New Mummy as a way to differentiate itself from the previous The Mummy franchise starring Brendan Fraser.
Warner Bros and DC Comics' Wonder Woman maintained strongly in second place with $30.43m for $64.78m after 10 days.
After taking the top spot for two weeks, Disney's Pirates Of The Caribbean: Dead Men Tell No Tales dropped to third place with $17.25m for $160m after 17 days. It has become the sixth highest grossing non-Chinese film and the eighth overall this year.
Dangal, already the fourth highest grossing film this year, continued to flex its muscles after one month. Starring Aamir Khan, the Indian wrestling drama came in fourth place with $9.86m for $176.96m after 38 days. It was ahead of local youth romance drama How Are You which debuted in fifth place with $4.49m from its first three days.
The rest of the chart included Japanese animation Doraemon the Movie 2017: Nobita's Great Adventure In The Antarctic Kachi Kochi on $2.76m for $19.42m after 13 days; period action film God Of War on $1.01m for $9.13m after 16 days; fantasy comedy Beautiful Accident on $0.8m for $2.4m after 10 days; 2015's comedy Running Man on $0.4m; and Love Without Words on $0.4m from its first three days.
With Alien: Covenant opening on June 16, Hollywood will continue to rule the Chinese box office further. Recently there has been a definite shortage of Chinese blockbusters, with the last hits being The Devotion Of Suspect X and Shock Wave, which opened in end March and end April respectively.