Festival to honour David Bowie, Alan Rickman and Ettore Scola through special screenings; security to be tightened.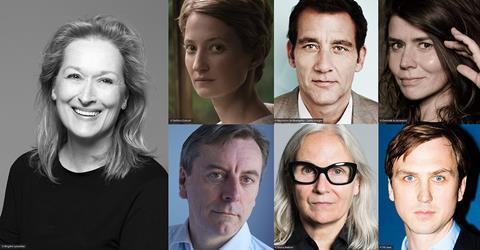 Actors Clive Owen, Alba Rohrwacher and Lars Eidinger are to join Meryl Streep in the International Jury of this year's Berlinale (Feb 11-21) which kicks off next week with the international premiere of the Coen brothers' Hail Caesar.
The seven-person jury deciding on the Bears, revealed this morning at a press conference in Berlin, also includes the UK film critic Nick James, French photographer Brigitte Lacombe and the Polish film director Malgorzata Szumowska whose last film Body won a Silver Bear for Best Direction at last year's Berlinale.
Owen is no stranger to Berlin as he was in town and at Studio Babelsberg in 2008 for the shoot of Tom Tykwer's The International which opened the Berlinale in 2009, while Eidinger is well known to Berlin theatre-goers as part of the Schaubühne ensemble as well as his film and TV work.
Last year, Eidinger could be seen in two films showing at the Berlinale: the Competition film Sworn Virgin and the Panorama title Dora Or The Sexual Neuroses Of Our Parents (Dora Oder Die Sexuellen Neurosen Unserer Eltern).
The jury for Best First Feature at the Berlinale will include actor Enrico Lo Verso, Swiss director Ursula Meier and Mexican director Michel Franco.
Berlinale Kameras
In addition to a homage and Honorary Golden Bear for veteran German cinematographer Michael Ballhaus, the festival will also be presenting Berlinale Kameras to the US indie icon producer Ben Bahrenholtz, actor-director-producer Tim Robbins, and Munich arthouse exhibitor Marlies Kirchner.
The festival has programmed additional Berlinale Special screenings as tributes to David Bowie (The Man Who Fell To Earth), Alan Rickman (Sense And Sensibility) and Ettore Scola (Le Bal) and has added a screening of Dead Man Walking in honour of Tim Robbins.
Perspektive adds two titles
Following recent tradition, the Perspektive Deutsches Kino sidebar will have special screenings of winners from this year's Max Ophüls Prize Film Festival and last September's First Steps Awards.
The Berlinale Kinotag on February 21 will provide a slot for Austrian director Stephan Richter's drama One Of Us which won the Best Feature Film Award at the Max Ophüls festival last month.
Paris-based Wide Management is handling international sales for the Golden Girls production which had previously been screened at festivals in San Sebastian and Zurich.
In addition, the festival's last day will show Levin Peter's Hinter Dem Schneesturm which was the winner of the Best Documentary Prize at First Steps 2015.
Security measures
Speaking to Screen ahead of today's press conference, festival boss Dieter Kosslick responded to concerns about tightened security measures at this year's festival by stressing that "things won't be like at an airport".
However, Kosslick explained that bringing in larger bags and pieces of luggage will no longer be allowed and there will be more bag searches. In addition there will be some other measures taken after consultation with the security services.

"We are naturally hoping that this Berlinale will be a peaceful one dedicated to cosmopolitanism," he added.