Critically-acclaimed director Lone Scherfig delivers masterclass to NFTS students.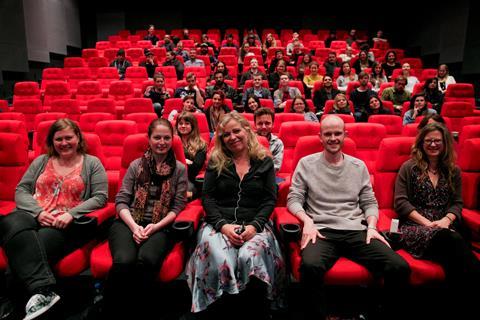 National Film and Television School students have been treated to a masterclass from critically-acclaimed Danish director, writer and producer, Lone Scherfig known for her international breakthrough Italian for Beginners; Oscar-nominated An Education; and romantic comedies such as One Day.
Introduced by NFTS director Nik Powell, the students were given a rare opportunity to see a clip of Scherfig's black-and-white graduation film, made while she studied at the Danish Film School.
While at the film school in Denmark, Scherfig spent time with contemporaries such as Lars von Trier and she talked about the great pleasure of collaborating with and learning from him.
Dogme 95
The filmmaker also talked about how difficult it was for her to find her directing voice until she became involved with the creative constraints of the Dogme 95 manifesto, an avant-garde filmmaking movement started by Von Trier and Thomas Vinterberg in 1995.
The Dogme rules took filmmaking back to basics and focussed on the traditional values of story. It was this movement, which helped Scherfig "find out what I was best at".
She told students: "My Dogme brothers became my Danish film family," adding that they continue to work closely together giving feedback on one another's scripts and films.
"Dogme sharpens your toolbox; it makes you focus more on story and actors," she added.
First Dogme feature
Italian for Beginners was Scherfig's first film made in the Dogme style and won numerous awards including the Jury Grand Prix Silver Bear at the Berlin International Film Festival.
Unlike many Dogme films, Italian for Beginners is comedic in tone. Scherfig described the film having "a style of its own" and the characters as being "undynamic and quiet, like picking flowers".
She advised students not be "too self-critical" and that the full detail of the story do not need to be told as this can make a film lighter and edgier. "You can meet people in the middle of a drama," she explained.
Italian for Beginners was also the film that made Scherfig "trust I could make people laugh" as when watching the film, people from different countries "laughed in the same places".
The Dogme style also allowed the director to "take the chance to go for something I really loved and admit the guilty pleasure of wanting to do romance and comedy".
Wilbur, An Education
The success of Italian for Beginners enabled Scherfig to make her next film, Wilbur Wants to Kill Himself, a film that she described as one of her favourites.
Scherfig made the film in Scotland and fell in love with the country while there. She declared it was great to work with British actors thanks to their "extraordinary diligence and wit".
When Scherfig made triple Oscar-nominated An Education, it signalled a change of style. She wanted the film "to have innocence and a naive quality like the films of the 1960s".
Due to the film being made on a fairly low budget, Scherfig applied skills she learned from the Dogme style to help her "tell the story with what you have as you can make do with very little".
She loved Nick Hornby's minimalist script and described it as having elegance and simplicity. Scherfig encountered many different acting styles while making An Education from method to classical to untrained and found it fascinating that despite this, "it can just work".
Scherfig related how she sometimes likes to give actors props to help them get into the era and spirit of the film.
She supplied a first edition of Dr No as it came out the year the film was set and a packet of liquorice allsorts to help one of the actors get into his character and the period.
The prop the actor really liked was a painting by Lucien Freud of a man in a suit in an armchair with a sad face who Lone describes as representing "someone who can't shake the war off, can't even take his coat off at home and can't see how his daughter could find a life beyond war".
The Riot Club
As An Education was so well received, Scherfig allowed herself to take some risks with follow-up The Riot Club.
She also stressed the importance of being genuinely interested in a script as making films takes so much time and effort.
Scherfig also revealed how she often avoids the colour red in the production design as it can take the audience's eye off the characters. But, in The Riot Club, she allowed the colour red to be revealed in the powerful scene where the pub is torn apart and the wallpaper is stripped back to expose a red layer underneath and enabled her to "let the film bleed".