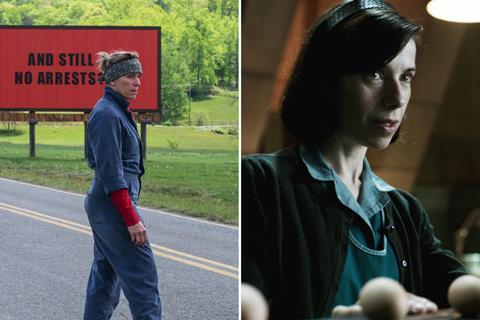 Tuesday's Oscar nominations confirmed the steady ascendancy in phase one of Fox Searchlight's The Shape Of Water and Three Billboards Outside Ebbing, Missouri.
There may yet be a few twists in the tail between now and the close of final polls on February 27, but these two films and their combined 20 nominations are the ones to beat in a number of senior categories.
After last season's debacle over The Birth Of A Nation, there could not be a better time for Searchlight to showcase its strength as an awards specialist and content creator of rare pedigree. Bob Iger and his Disney lieutenants will be watching closely as they rumble towards the take-over of Fox's film and TV assets.
This is a high quality awards season, yet the ebb and flow of appreciation is fickle and can leave a promising film and/or campaign stranded. This year, the winners will be those that are able to capitalise on an emotional resonance with voters that can, at times, be hard to fully articulate.
The Time's Up and #MeToo movements reflect an industry in turmoil and may well lead to more black outfits on a red carpet a la Golden Globes. The 90th Academy Awards on March 4 will almost certainly set the stage for stirring speeches about justice, decency and fairness — and all with good reason.
The sex scandals that have rocked Hollywood signal the beginning of the end for the likes of Harvey Weinstein and Kevin Spacey. Lately James Franco has come under fire for allegations of sexual misconduct and his The Disaster Artist has been largely punished by the Academy.
Old claims have resurfaced against Woody Allen, which by extension have put the breaks on Kate Winslet's prospects this season for a fine performance in Wonder Wheel. In light of several high profile actors deciding to donate their wages from A Rainy Day In New York to charity, Allen's future as a commercial filmmaker looks uncertain.
All this is to say that in the final reckoning, the righteous fire that engulfs Hollywood makes a statement but overall will have minimal impact on who actually collects statuettes on the night. After months of clamour — within the broader context of a tumultuous first year at the Trump White House — voters can be forgiven for privately wanting to step away from hashtags and acrimony and celebrate uplifting stories of hope.
Favourites
Essentially it comes down to heart. In this regard The Shape Of Water, which leads the field on 13 nods, Three Billboards Outside Ebbing, Missouri on seven, and Warner Bros' Dunkirk from Christopher Nolan on eight, will be hard to beat in the senior categories. The former just won the PGA's best feature prize and there is considerable weight to the oft-repeated statistic that 19 out of the past 28 recipients have gone on to win the best picture Oscar.
The Shape Of Water is a creative wonder from start to finish and its romantic spirit exudes a profound tenderness. It is hard to argue against it as the best picture frontrunner, while beloved DGA nominee Guillermo del Toro makes a strong case with his first best directing Academy Award nod. If he wins, he will become the third Mexican after Alfonso Cuaron and Alejandro Gonzalez Iñárritu to lay his hands on the statuette in five years.
The Screen Actors Guild anointed Frances McDormand its best actress at the weekend, and the Oscar nomination would appear to be the penultimate milestone in what looks like a coronation march towards the 90th Academy Awards on March 4.
Her performance in Three Billboards as a mother who hurls herself into an irascible quest for justice has chimed with voters all season and is hard to forget. Far grittier than The Shape Of Water, and less obviously accommodating, the drama paints an admirable portrait of dignity and love, and its lead actress has blazed a trail at the helm of another dazzling category of female contenders this season.
The men's contest however, has not been a strong one, which has kept Gary Oldman's portrayal of Winston Churchill at the top of the pile ever since Darkest Hour premiered in Telluride. He will be pushed all the way by Daniel Day-Lewis for Phantom Thread, and the fact that this appears to be the three-time winner's swansong will play heavily on the minds of voters.
Dunkirk has been among the vanguard since it opened in theatres last July. That is not only a testament to its craft but also to an emotional core, albeit a restrained one, seldom seen in Nolan's work. Voters and viewers have responded to the British director's global hit for many months.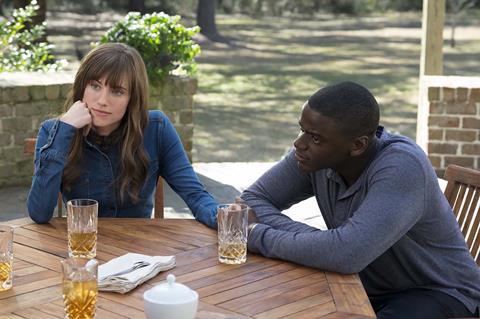 Speaking of longevity, Jordan Peele's Get Out has been one of the most remarkable Hollywood films to come along in years. A box office smash when it opened in February 2017, it never lost its allure and this intelligent genre film with a subversive heart has been an outlier sensation. It earned four Oscar nominations, all of them in senior categories including three for African-American writer-director-producer Peele (director, writer, picture) and a best lead actor nod for British star Daniel Kaluuya.
Missing out
Fox-Amblin's The Post by Steven Spielberg is a fine drama that speaks perhaps most transparently to the political times we live in — and most acutely to US-based members of the Academy. Yet the procedural tone strays from intimacy and it has not been showered with love. Ultimately it is in the running for best picture, and best lead actress for the evergreen Meryl Streep, who earned her 21st career nod.
Similarly, Imperative Entertainment's All The Money In The World, distributed globally by Sony, is another emotionally detached work that never evolved into a strong contender, despite the heavyweight credentials of Ridley Scott and his cast. Everyone admires Scott's extraordinary 11th hour Christopher Plummer-Kevin Spacey swap, and the result of that is a sole nod for Plummer.
The touching mother-daughter relationship in A24's Lady Bird between Saoirse Ronan and Laurie Metcalf has struck a chord. Both are nominated, as is the firebrand director Greta Gerwig, who becomes only the fifth woman ever to receive a directing nod. Overall the film earned five nods, including original screenplay for Gerwig.
Changing times
The changing profile of Academy membership would appear to have something to do with all this. Membership swelled by around 10% in the last year to around 7,200 voting members and there has been an influx of younger, more ethnically diverse constituents.
Membership invites over the last two years have been forged in the fires of #oscarsowhite, a righteous course correction in step with a systemic demand for gender parity, tolerance of racial equality, and acceptance of sexual orientation.
It is hard to gauge how the movement is actually impacting on the nominations process. It is probably too soon to say. Four nods for Get Out and four acting nominations for black actors – Kaluuya and Denzel Washington in the lead actor category, and Mary J. Blige and Octavia Spencer in the supporting actress contest – may not be as many as there were last year, but it is an improvement on 2015 and 2016.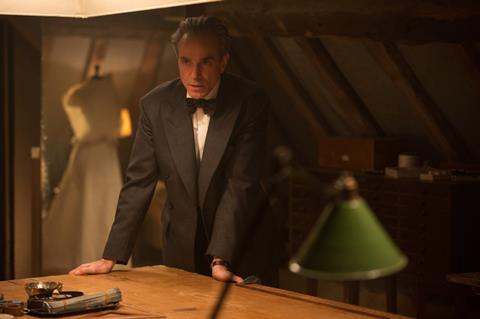 Similarly, Gerwig's nomination in the directing and original screenplay categories is to be lauded, as is the fact that Mudbound's Rachel Morrison is the first woman to receive a cinematography nod. It would have been thrilling to see Chilean transgender star Daniela Vega get a lead actress nod for A Fantastic Woman. The Academy needs to champion greater diversity of ethnicities and sexual orientations, and it is incumbent upon producers and financiers to show early support.
A slightly edgier crowd is starting to seep into the hallowed Academy, one that is willing to champion great storytelling, occasionally from a younger or anti-establishment perspective. With that in mind it is surprising The Florida Project only picked up one nomination in the supporting actor category for Willem Dafoe. Get Out clearly flies the flag for left-of-centre voters and reflects the horror film's broader commercial resonance among the public.
Both sets of supporting acting nominees reflect an impressive breadth of talent. The SAG win for Allison Janney makes her the film favourite for I, Tonya, and who would deny such a fine performer the highest honour. Among the men, Three Billboards has again shown its mettle with Golden Globe winner Sam Rockwell and Woody Harrelson in the running alongside Dafoe, Plummer, and Richard Jenkins from The Shape Of Water. There is a reason SAG gave Billboards the ensemble acting award. It is a monumental film. Voters of all ages and from all walks of life see that.
Finally, Roger Deakins, the man Denis Villeneuve hails as the "master of light", has earned his 14th cinematography nod. He has never won the Oscar. With respect to Morrison and the other nominees, it would be a travesty if he does not finally claim the prize this year for his sumptuous work on Blade Runner 2049.