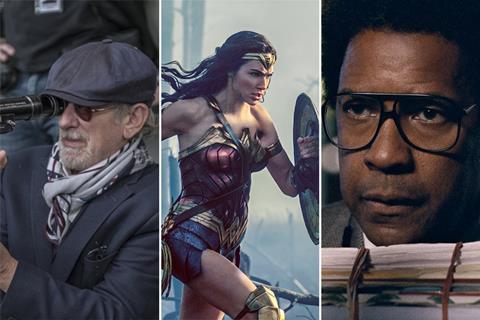 There were shocks in the director, lead actor and foreign-language film categories this year. Read the full list of nominations HERE.
Best Picture – Phantom Thread makes the cut
Of the nine nominees, the eyebrow-raiser is Phantom Thread, a magnificent film that for a while there looked as if it was going to glide largely unnoticed through this awards season. But it has enjoyed a terrific morning with six nominations and Focus Features has its work cut out for it to make some noise in a long Phase Two en route to the 90th Academy Awards ceremony on March 4. Two other works that many deemed would ride the zeitgeist have missed out on a nomination: Wonder Woman (which got nothing even in the technical categories) and The Florida Project.
Director – McDonagh, Spielberg snubbed
Paul Thomas Anderson is one of the finest directors of his generation, but it is still a surprise – albeit a very pleasant one – to see him make it on the list this year for Phantom Thread. It was unexpected and probably squeezed out Martin McDonagh for Three Billboards Outside Ebbing, Missouri. Less surprising are the omissions of Steven Spielberg for The Post, a late arrival that has not caught fire among voters, and Ridley Scott for his solid (and miraculous eleventh hour) work on All The Money In The World.
Lead Actor – Denzel in, Franco out
A category of surprises this year, which could be down to the heavy influx of new, younger, more ethnically diverse members over the past two years. Daniel Kaluuya is in the mix for Get Out. Some Oscar prognosticators had predicted this, but it still feels like a bit of a surprise, albeit a very welcome one. Three-time winner Daniel Day-Lewis is in for Phantom Thread, which will put some heat on the favourite Gary Oldman. The most glaring omission is Academy darling and two-time winner Tom Hanks for The Post, which may be what allowed Denzel Washington to sneak in for Roman J. Israel, Esq. James Franco's exclusion for The Disaster Artist – despite winning a Golden Globe – no doubt stems from his controversial private life.
Supporting actress – Holly Hunter snubbed
In an otherwise solid category, Holly Hunter for The Big Sick is the big snub here. Hong Chau earned plenty of individual love for Downsizing but in the end voters across the board haven't liked Alexander Payne's satire and she is also overlooked. Bafta nominee Lesley Manville for Phantom Thread and Octavia Spender for awards juggernaut The Shape Of Water make the cut.
Original screenplay – Phantom Thread, I, Tonya miss out
This was the one category where Phantom Thread was expected to earn a nomination and it has not. The film could not translate wins from the New York Film Critics Circle and National Board Of Review into an Oscar nod. I, Tonya misses out too. Not everybody thought The Shape Of Water would get into this race, but it has such momentum behind it that it would be foolish to think it can't do anything at this stage.
Foreign-language – In The Fade fades away
The big snubs here are Fatih Akin's Golden Globe winner In The Fade (Germany) and Samuel Maoz's Foxtrot (Israel), regarded by many as a masterpiece. That paved the way for the surprise entry, Ildikó Enyedi's Hungarian submission On Body And Soul.
Documentaries – snubs for Ghosts and Jane
Two shockers here as neither Matthew Heineman's City Of Ghosts nor critics favourite Jane from Brett Morgern earn nods. Steve James' Abacus: Small Enough To Jail is the mild surprise.