Secret Cinema founder Fabien Riggall reveals how its most 'grand' production to date came together and what the future holds.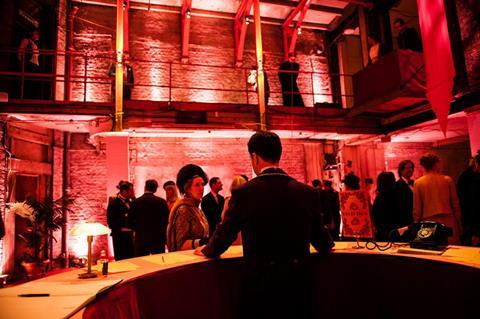 Dressed in dapper 1930s clothing, Fabien Riggall walks unnoticed among the wide eyed guests of The Grand Budapest Hotel.
It marks the launch night for the latest production of Secret Cinema, the immersive 'live film' company that Riggall founded in 2007 and attracted more than 100,000 people to its shows last year, offering a night of interactive theatre before screening the movie around which it is themed.
This latest show could be their most 'grand' to date, a far cry from the prison setting of its Shawshank Redemption production or the dirty future created for screenings of Alien and Blade Runner.
Themed around Wes Anderson's new energetic caper, Secret Cinema has brought to life the grandeur of The Grand Budapest Hotel at an old glass factory in London.
Ticket holders arrive in smart evening wear carrying guest cards, identity papers and a 'special item', ranging from pink flowers to a suitcase full of old clothes – all part of the pre-show instructions.
Riggall describes this preparation process to Screen as a "pre-narrative" and explains: "It gets people into the spirit of the production before they even get here and enhances their experience."
After "modern forms of communication" are confiscated at the door, guests enter a bustling hive of activity that features more hotel-themed characters, drama and laughs than an episode of Fawlty Towers.
"We're in the hotel business now," says Riggall, who oversaw transforming the building from an empty shell - used for filming episodes of Mr Selfridge and Commissioner Gordon's office in the recent Batman films - into a grand hotel over several floors complete with bedrooms, bars and more than few surprises.
"We have been looking for a title for some time that is in the spirit of what we do and of significant enough status to launch this new series," he adds.
Having established a relationship with Fox through their production of Prometheus, Riggall proposed to distributor Fox Searchlight that Secret Cinema could preview The Grand Budapest Hotel before it goes on general release in the UK on March 7. They also secured the consent and approval of Wes Anderson's team.
"We are keen to build partnerships with the industry and Fox have given us a great vote of confidence in what we are doing," says Riggall, who originally trained at the New York Film Academy.
"This new series of Secret Cinema Presents will take certain films and release them in this way to create appetite and interest from audiences," he explains, highlighting how the company did a similar thing with documentaries The Imposter and Searching For Sugar Man.
It differs from its Tell No One strand, in which the film remains a secret until the audience arrives.
But for those attending a film of which they have little knowledge, the screening still acts as a reward on a couple of levels. As well as enjoying a preview of a highly anticipated film, the content of the feature provides answers to what has been going on at the venue over the past two hours. Women in black, men in white and a room of people clamouring over a will take on greater meaning.
"It becomes a cultural experience but also offers an opportunity for people to promote the film to a wider audience ahead of its opening," says Riggall.
"We are trying to demonstrate how this could be a way of creating further appetite for people to experience a film in a new way while encouraging more people to go to the cinema."
Going forward, Riggall has his eyes on overseas expansion. "We are looking for launch in the US and Asia, part of our plans to make this a global business," he adds, having previously staged events around Alien in Berlin and Blow Up in New York.
"I've been travelling to New York and Los Angeles over the past six months, developing relationships, and hope to do something in the US towards the end of this year."
But he promises something extra special in the UK this summer, "the biggest we've ever done". Details remain under wraps so only time will tell.
In the meantime, Secret Cinema's The Grand Budapest Hotel will run until March 30, having added extra dates. For more information, click here.
Tips
Dress code: It's worth sticking to the instructions. A lobby boy spotted one guest's inappropriate footwear and dryly commented: "Interesting shoes, sir. You're not from round here, are you?" It is also worth dressing warmly as it takes a lot to heat up an old factory on a cold evening.
No phone zone: Mobile's are confiscated before entry - a welcome enforced removal from the distractions of the modern world and scores of people taking photos throughout the evening. They also don't take "modern forms of payment" at the restaurant or bars - cash only.
Luggage: Some of the items listed in the instructions are useful to bring… but you won't be turned away if you haven't brought your papers.
Staff: Allow yourself to be led around by the attentive maids and lobby boys. They will likely introduce you to characters and parts of the hotel that you may not have otherwise discovered.
Guests: They're a creative bunch so be prepared to recite a poem if asked (if you draw a blank do what Screen did and recite the lyrics to the first song that comes to mind, which in this instance was Coolio's Gangsta's Paradise).
Wander: It is worth exploring all corners of the hotel and you may find some interesting areas below stairs as well as above.
Get involved: The more you put in, the more you get out of the experience. Accepting an invitation to interview for a job at the hotel or declaring an interest to a lawyer is all revealing (and rings true during the film later).
Take in the view: The centre of the hotel is a hive of activity and when things start to kick off just before the screening, guests can choose to take in a view of the action from up high or get involved by staying on the ground floor.