EXCLUSIVE: The Toronto-based company has picked up US distribution and world sales rights to the second film in BGOI Film's 'On Ice' slasher series.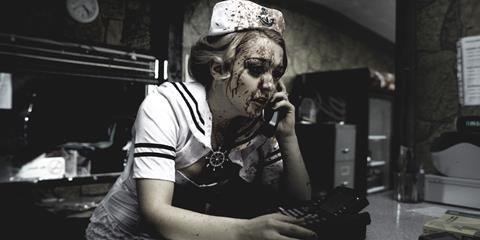 Geoff Klein and Melissa Mira of Montreal-based BGOI co-directed and co-produced Pinup Dolls On Ice, which they describe as "an unapologetic love letter to all the old-school slasher films from the 80's. A very well written love letter…"
The story centres on a group of retro strippers who encounter a homicidal maniac obsessed with ice when they are hired to put on a show at a secluded camp ground. 108 Media plans to release in the US later this year.
"Pinup Dolls On Ice embodies everything that 108 Media has been looking for," said Nick Burton, who alongside Jordan Nutson brokered the deal for 108 Media with the filmmakers.
"This combination of scary and sexy is something audiences definitely haven't seen yet. We're very proud to be releasing the film in North America and representing it worldwide".
"We are thrilled to team up with 108 Media to maximise the potential and success of our sexy horror film," said Mira.
"We have taken our time and refused many offers along the way, but we are happy and feel confident that Pinup Dolls On Ice has found a good home," added Klein.
BGOI Films is in pre-production on the third entry in the 'On Ice' franchise. They created Bikini Girls On Ice in 2008 and followed up with a world premiere at the 2013 Fantasia Film Festival for Pinup Dolls On Ice.