EXCLUSIVE: HanWay to sell live-action feature produced by Jeremy Thomas and Jean Labadie; shoot set for spring 2017.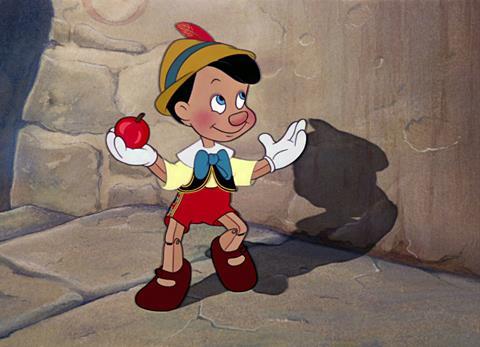 The Great Beauty star Toni Servillo is set to play Geppetto in Gomorrah and Tale Of Tales director Matteo Garrone's anticipated live-action update of Carlo Collodi's classic tale Pinocchio.
Writer-director Garrone is set to reteam with many of the creative team behind his 2015 fantasy-drama Tale Of Tales, which debuted at Cannes, using a mixture of prosthetics and CGI to create the characters.
HanWay has boarded sales on the intriguing project and will introduce it to buyers at the upcoming AFM. Additional casting is underway.
Producers include Garrone's Archimede, Jeremy Thomas's RPC and Jean Labadie's Le Pacte, in association with Rai Cinema. Rai Cinema will release the film in Italy, and Le Pacte will release the film in France.
Principal photography is due to get underway in spring 2017, reuniting Garrone with his Gomorrah star Servillo.
Speaking at the recent Rome Film Festival, Garrone revealed that the project will be Italian language and shoot in Italy across Lazio and Tuscany.
The classic fairytale about a living puppet who must prove himself worthy to become a real boy, was most famously adapted by Disney in 1940, a version which scored two Oscars and huge box office.
Garrone said: "Pinocchio is a dream of mine that goes back in time, back to when I was a child. With this movie, I will complete my journey through the fairy-tale world that I started with Tale of Tales. I hope this will be an evolution thanks to the experience I've gained. The love I feel for Pinocchio isn't love at first sight. It's a character I've always been drawn to, and many have noticed his influence both in Gomorrah and Reality."
Jeremy Thomas commented: "I'm so excited to be working with Matteo again on an adaptation of this classic tale, that is so beloved throughout the world. I'm waiting to see the Garrone version, handmade in Italy!"
Jean Labadie added: "We are thrilled to work again with such a great talent as Matteo Garrone.Going back to the authentic Pinocchio is the promise of a fantastic film for all audiences. Being a partner with Jeremy Thomas is always a great pleasure and the guarantee of a wonderful production."
The fairytale has long fascinated Hollywood and international directors with Guillermo Del Toro and Ron Howard among recent filmmakers reported to have versions of the film in development.
Garrone would be the first Italian director to tackle the story in a major Italian feature since Roberto Benigni's underwhelming 2002 version.
Following the summer departure of MD Thorsten Schumacher, HanWay will head to the AFM with a new-look sales team spearheaded by former Bloom executive Gabrielle Stewart. Former Fortissimo executive Nicole Mackey is currently consulting for the blue chip London outfit.
The company's sales slate also includes Lone Scherfig's Their Finest, Yorgos Lanthimos' The Killing of a Sacred Deer and How To Talk To Girls At Parties from John Cameron Mitchell.