Paramount Pictures hierarchy announced on Friday that a joint venture of the Chinese companies has made "a significant investment" in Jack Reacher: Never Go Back.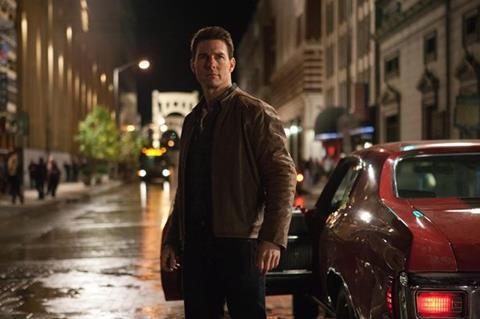 The Huahua Media-Shanghai Film Group joint venture will also act as the lead marketing partner alongside Paramount China on the action thriller starring Tom Cruise, one of Hollywood's biggest exports to China.
Cruise reprises his role as the former military investigator. The film will open in the US and China on October 21.
Huahua invested in and promoted in China Paramount and Skydance's Star Trek Beyond, which has generated $62m since it opened on September 2.
Huahua Media was also one of Paramount's China marketing partners on 2014 release Transformers: Age Of Extinction, which became the first film to cross $300m at the Chinese box office.
Shanghai Film Group is a vertically integrated film company that oversees more than 2,000 cinema screens in China.
"Huahua's marketing acumen was instrumental in the global success of Star Trek Beyond and 'Transformers: Age of Extinction," said Paramount Pictures chairman and CEO Brad Grey. "We are excited that its team – and that of Shanghai Film Group – has come aboard as we release Jack Reacher: Never Go Back around the world."
"Huahua is a valuable collaborator with extensive marketing resources that have allowed us to deliver our biggest franchise films to audiences all over the world," said Megan Colligan, Paramount's president of worldwide distribution and marketing. "We are thrilled to be working with them again, and to partner with Shanghai Film Group, on Jack Reacher."
Huahua CEO Kefei Wang said, "Our major investment in Jack Reacher: Never Go Back marks Huahua Media's second worldwide co-investment, following on our investment in Star Trek Beyond. We are poised to launch a powerful, multi-market campaign to drive a lucrative opening for the film in China.

"Huahua Media excels at quickly cultivating fan bases of millions in China for American films by forging cross-cultural connections that capture audiences. We are eager to introduce Jack Reacher: Never Go Back in China and foster a whole new generation of fans for Paramount's fast-paced action franchise."
"Both Tom Cruise and his Jack Reacher character are universally loved in China, so we are excited to be able to bring this new film to fans there," said Ren Zhonglun, president of Shanghai Film Group. "We look forward to working closely with Huahua and Paramount Pictures and to the release of another successful Jack Reacher film."