EXCLUSIVE: Screen spoke to Lucky Red following its latest re-release success and ahead of the first local release of The Cat Returns.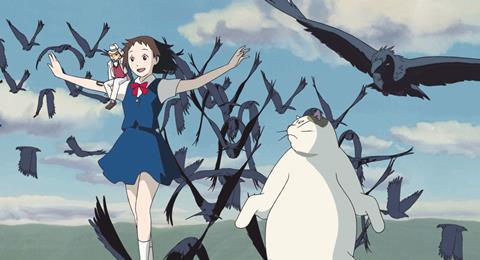 Since acquiring the company library in 2005, Italian distributor Lucky Red has energised new audiences and found commercial success through a string of two and three-day Studio Ghibli releases (new and old), which are being termed 'event' launches in Italy.
While not 'event' releasing as it is known in the UK, Lucky Red has created itself a lucrative niche in the local market through the short-burst release strategy (which doesn't come with the dressing up or participatory immersion of a Secret Cinema).
In 2011 the two-day release of From Up On Poppy Hill grossed €162,000 from 132 screens
Last weekend the two-day re-release of 1988 classic My Neighbour Totoro grossed €71,000 after luring 8,000 customers to 166 screens only seven years after its first release.
Screen averages aren't game-changing but margins are strong.
"Event distribution is effective in proportional terms, not absolute ones," explained Lucky Red founder Andrea Occhipinti.
"The total gross may be equivalent to the traditional release but marketing costs are ten times lower".
"When we re-released Princess Mononoke as an event in 2014 it resulted in €68,000 at the box office," continued Occhipinti. "That's more than twice what it grossed on its first Italian release in 2000. Obviously there has also been a change in the way Hayao Miyazaki is perceived thanks to an Oscar, a honorary award in Venice and a retrospective at the Rome Film Festival".
New-release 2013 animation The Wind Rises grossed €1m in only four days from 214 screens. New release Ponyo (2008) had grossed €800,000 from a traditional release strategy.
In the same year the Ghibli-themed documentary The Kingdom of Dreams and Madness attracted 9,000 people to 176 screens, grossing €87,000.
A stunt release is one way to garner public attention in a crowded local market.
"The Italian market is very schizophrenic," added Occhipinti. "The audience is often puzzled by the speed at which movies are taken off the screens but an event creates an urgency that stimulates attention".
Aided by the flexibility of digital cinema programming the indie kingpin's ten-year programme of short-burst releases has cultivated a new audience for the films: "Initially we were able to serve only a few cinemas in big cities, but through event distribution we began to cover a larger part of the country, serving more areas for fewer days," added Occhibpinti.
The home entertainment value of the Ghibli library also remains strong.
"The growing success of these movies together with their performance in the home video market tells us that there's a continuous demand from newer audiences. It's not by chance that there is generally a Ghibli movie in Amazon's top 10."
Studiocanal has found similar success through Ghibli home entertainment re-releases in the UK in recent years.
The next Ghibli theatrical release for Lucky Red will be The Cat Returns (2002), which has never been released before in Italy but is due to play over February 9 and 10, 2016.