EXCLUSIVE: UK distributor buys slate and catalogue with more than 500 titles; predicts "doubled market share".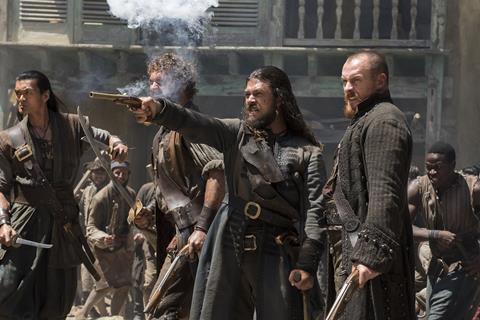 UK distributor Kaleidoscope (KHE) has acquired fellow UK outfit Platform Entertainment Ltd, including its upcoming slate and film and TV catalogue.
The deal sees KHE take over all sales and distribution for the company's 500-strong library, including 10 Minute Solutions, TV series Spartacus, Vendetta, We Still Kill The Old Way, The Adventures of Tin Tin, and I Spit On Your Grave.
Upcoming titles include Black Sails Season 4, We Still Steal The Old Way, Sky Sharks and Bonded By Blood 2.
Spencer Pollard CEO of KHE said: "We are excited to have been able to conclude the acquisition of Platform Entertainment. The consolidation of the Platform library of rights within the current Kaleidoscope catalogue, together with the upcoming slates from both businesses, will see our market share in the UK double overnight."
"The Platform library has huge potential in the physical market place but just as importantly in the digital, VOD and SVOD marketplaces and we will be working tremendously hard with all our bricks and mortar partners and ancillary outlets to ensure we maximise the combined value in the coming months," he continued.
"We firmly believe that consolidation within the UK and International marketplace is vital for independent distributors to continue to grow, and adapt to market changes and consumer buying habits."
Prior to a management buyout in late 2014, Platform traded for over a decade as Anchor Bay Entertainment owned by US corporation Starz. The company rebranded as Platform Entertainment in 2015 and also housed Manga Entertainment UK, which will continue as a separate entity. The 12 staff from Platform will segue to the latter.
Colin Lomax, former CEO of Platform Entertainment, commented: "I am delighted to have concluded a deal with KHE for Platform's excellent catalogue of titles plus future slate and am sure KHE will continue to have great success with the business.
"I will now focus on our core Manga business which remains completely independent of Platform and continues to enjoy continued success as the leading distributor of Japanese anime content in the U.K."
Recent released for KFD include Donnie Yen martial arts epic IP Man 3; WW2 thriller, Warsaw 1944, Australian psychological thriller, Strangerland, starring Nicole Kidman, Hugo Weaving and Joseph Fiennes, and Jackie Chan's Police Story: Lockdown.