Sierra/Affinity to handle sales at AFM on Craig Gillespie drama-biopic I, Tonya.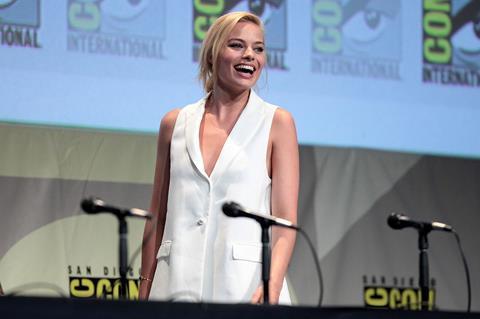 Len Blavatnik's AI Film will fully finance Craig Gillespie's upcoming, I, Tonya, with Sierra/Affinity due to commence international sales at this year's AFM.
Margot Robbie (Suicide Squad) is in negotiations to star as American figure skater Tonya Harding as well as produce the edgy comedy, with Bryan Unkeless (The Hunger Games) for Clubhouse Pictures, Tom Ackerley for LuckyChap Entertainment and Steven Rogers already attached to produce.
Blavatnik and Aviv Giladi of AI Film are executive producing. UTA Independent Film Group and CAA are representing US domestic rights.
I,Tonya focuses on Harding's sensationalized involvement in the 1994 attack on Nancy Kerrigan, which became an infamous tabloid scandal.
Gillespie (Lars and the Real Girl) directs a script penned by Steven Rogers (P.S. I Love You).
Aviv Giladi, chairman of AI Film, said of the announcement: "AI Film is thrilled to be collaborating with such a terrific creative team on this hugely entertaining project that is sure to captivate audiences worldwide."
Nick Meyer, CEO of Sierra/Affinity, added: "We are proud to partner with the talented teams at AI Film, Clubhouse Pictures, and LuckyChap Entertainment to present Craig and Steven's unique and darkly comedic take on the iconic events that catapulted figure skating into the hot seat of global controversy. Margot is an incredible acting talent that will combine her powerful on-screen presence with a comedic touch that will give this project wide appeal."
Margot Robbie and LuckyChap are represented by Management 360, CAA and attorney Jeff Bernstein. Robbie is additionally represented by Aran Michael Management. Steven Rogers is repped by Gersh. Gillespie is represented by UTA and Management 360.
I, Tonya is the latest investment for AI Film, whose forthcoming slate includes Hacksaw Ridge and Martin Scorsese historical drama, Silence. Past projects include Lee Daniels' The Butler; Bill Condon's Mr Holmes with Ian McKellen; and Warner Music collaboration, Kill Your Friends.