FDA president hopeful of less seismic EU digital reform.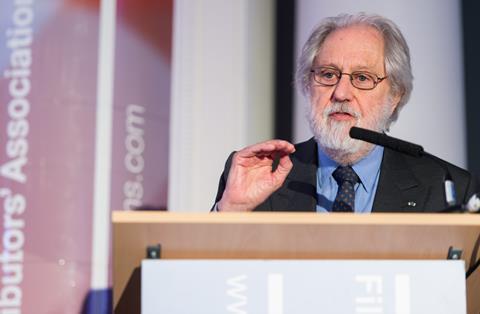 Labour Lord and former film producer David Puttnam is hopeful that controversial EU plans to introduce a Digital Single Market will not include the outlawing of geo-blocking, as feared by many in the creative industries.
Speaking to ScreenDaily in his capacity as president of the Film Distributors' Association, Lord Puttnam yesterday said that cultural lobbying groups could still have a significant impact on policy.
"The Commission will be driven towards the cultural diversity aspect by Francoise Hollande and Angela Merkel, because the film groups around both of those leaders are quite powerful," said the Oscar-winning Chariots of Fire producer.
Puttnam cited an interview with EU digital commissioner Gunther Oettinger in the Frankfurter Allgemeine Zeitung newspaper on Monday (March 30) as evidence of a softening approach.
According to Puttnam, the German commissioner stressed in the article he was in no rush to abolish geo-blocking, or the practice of restricting online content according to location.
Puttnam said that Oettinger going on the record in favour of protecting cultural diversity is a crucial development in the debate.
"I think the Commission at one point thought this was a fait accompli," he said. "What's going to happen now, I think, is that three or four big countries are going to start forcing the issue, led by Merkel and Hollande.
"It seems to me that the Commission have walked straight into this without looking at the alternative business model for the film industry."
The FDA president believes that the Commission report on the DSM, due on May 6, will now be less forceful than originally envisaged, "a gathering-of-views paper" as he described it, in which the Commission advances all of the arguments in favour of the DSM.
"What they ought to be doing is focusing on the business case and new business models for the digital single market," said Puttnam. "And I think they will do that. In the end, the European Commission are not ideological, they're practical."
During his annual FDA speech Puttnam said of potential reform: "Surely a healthy, vibrant single market can continue to accommodate a plurality of release patterns? This is not discrimination; it's just common sense."
"Surely cultural diversity for Europe's citizens must rate for serious consideration alongside the theoretical ideal of simultaneous accessibility."
Puttnam also took exhibition companies to task during his speech, criticizing their "negative and inflexible approach" to theatrical windows.
With the paradigm shift in viewing habits, the FDA president called the stance "absurd" and "wholly out of kilter with realities", urging cinema operators to embrace a more open approach.
"There is no evidence to suggest that any such flexibility cannibalizes the interests of theatrical audiences," he said.
"I'd urge those politicians or consumers who harbour the belief that film distributors are holding stuff back to question not the distributors but the cinema operators as to why their inflexible approach to windows persists. The current impasse feels like a 'lose-lose' situation, one in which a lack of imagination is stunting revenues."