The documentary filmmaker used social media on Tuesday to promote his latest film about Republican presidential candidate Donald Trump.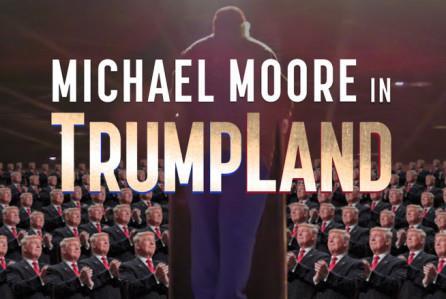 Moore tweeted that Michael Moore In Trumpland would premiere for free at New York's IFC Center on Tuesday night ahead of a week-long self-distributed theatrical run in that city and Los Angeles.
The film centres on Moore's efforts to stage a one-man show about Trump in Ohio before it faced obstruction from the local Republican chapter.
"See the film Ohio Republicans tried to shut down," said promotional material on the IFC Center website. "Oscar-winner Michael Moore dives right into hostile territory with his daring and hilarious one-man show, deep in the heart of TrumpLand in the weeks before the 2016 election."
Moore's Bowling For Columbine won the best documentary Academy Award in 2003 and his follow-up a year later, Fahrenheit 9/11, became the highest grossing documentary theatrical release in North America on $119.2m and took $222.4m worldwide.