Sales company Odin's Eye has sold North American rights to the Chinese film Million Dollar Crocodile to Screen Media Films, which will now begin planning for a release in the first quarter of next year.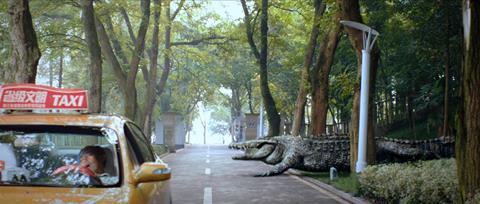 Central to the story in the action/adventure/comedy is a 36-foot crocodile who is sold to gangsters by the owner of a peaceful crocodile farm.
Before the croc escapes his captors and goes on a rampage in Beijing — where he was to be slaughtered and made into high-priced steaks — he swallows a big bag of cash, increasing his value considerably.
Million Dollar Crocodile was written and directed by Li Sheng Lin and produced by Rui Li and stars Barbie Hse and Tao Guo.
It has already sold in a number of Asian territories including Japan, Thailand/Cambodia, Indonesia, India and Malaysia.
"We picked the film up following negotiations over several months, finalised at Beijing Film Market 2012, and launched it at Cannes this year," said Odin's Eye head Michael Favelle. "We would like to do more films with production company Geliang Media."
Favelle describes it as China's first CGI monster movie blockbuster.