EXCLUSIVE: Finnish debut feature that won Cannes Un Certain Regard adds deals in Europe, Canada and China.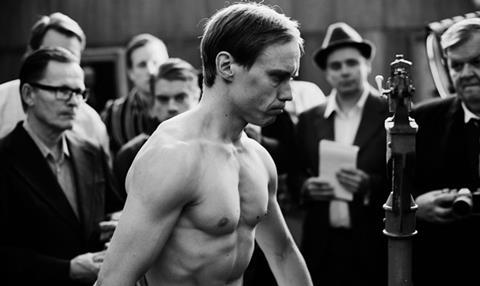 Les Films Du Losange has sold out across Europe on festival hit and Oscar hopeful The Happiest Day In The Life of Olli Maki, the debut feature by Juho Kuosmanen.
The French outfit has closed deals for Spain (Surtsey Films), Benelux (September), Austria (Polyfilm), Italy (Movies Inspired), Portugal (Legendmain), Greece (Videorama), Turkey (Filmarti), Denmark (41 Shadows), Iceland (Bio Paradis), Norway (Storytelling Media), Sweden (Folkets Bio), Bulgaria (Art Fest), Former Yugoslavia (Zagreb Fest), Hungary (Mozinet), Czech/Slovak Republic (Aerofilms), Romania (Voodoo Films), Baltic States (Must Kasi) and Poland (Gutek).
Deals have also been closed with Raven Banner in Canada and DDDream in China.
As previously reported, MUBI will release teh film theatrically in the US and UK. B-Plan released the film in its native Finland and Les Films Du Losange also released in France. Camino will release in Germany.
The black-and-white film, about the real-life Finnish boxer more concerned with his new girlfriend than winning a championship fight in 1962, won the Un Certain Regard prize in Cannes and has also won top prizes in Zurich, Chicago and St Petersburg.
"Seeing the film was love at first sight," said Bérénice Vincent, head of sales at Les Films Du Losange. "We're extremely happy that distributors all around the world trust in this gem of arthouse cinema."
The film is Finland's submission to the foreign-language Oscar race and is also nominated at the European Film Awards in the European Discovery category.
"We're blown away from what has happened since the premiere in Cannes. Being selected at Un Certain Regard was already amazing, but the response we've been getting all around the world is overwhelming," added producer Jussi Rantamäki from Aamu Film Company in Helsinki.
The film is produced by Rantamäki and co-produced by One Two Films in Germany, Tre Vänner and Film Väst in Sweden. Backers include The Finnish Film Institute, Nordisk Film & TV Fund, YLE and SR/ARTE.