EXCLUSIVE: Crampton co-stars in debut co-written by Richard Stanley.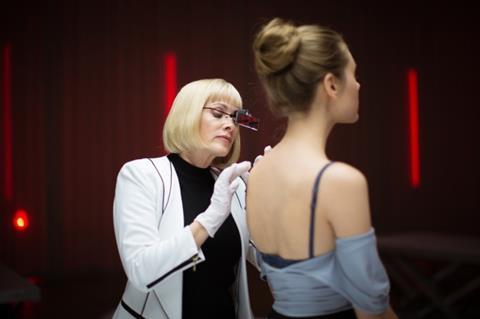 Genre specialist Jinga Films has boarded Norbert Keil's completed debut sci-fi-horror Replace for international sales.
Produced by Felix Von Poser of Sparkling Pictures and executive produced by Colin Geddes of Ultra 8 Pictures, Replace stars Rebecca Forsythe (The Bronx Bull) as a young woman afflicted by an unusual skin disease.
When she starts to age rapidly, she discovers that she can replace her own skin with the flesh of others to maintain her beauty.
The film's team includes genre stalwarts Richard Stanley (Hardware) as a co-writer and actress Barbara Crampton (Re-animator) among the cast as a futuristic dermatologist.
"Replace is a classic body horror set in the not too distant future" said Jinga's Julian Richards. "It's a sexy, stylish and provocative riff on themes previously explored by David and Brandon Cronenberg in Rabid and Anitviral".
Replace will have its market premiere screening in Cannes with a festival premiere expected this spring.
Other new titles that Jinga will launch in Berlin include Samuel Galli's supernatural horror Our Evil, about an exorcist who hires a serial killer to protect his daughter from demonic possession, and Matt Stuertz's teen horror Tonight She Comes.