EXCLUSIVE: SC Films boards first Israeli-Hungarian co-production.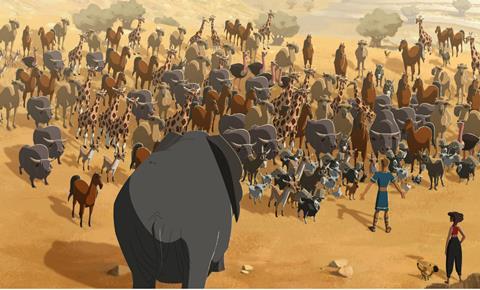 London-based sales outfit SC Films International, has acquired international rights to The Legend Of King Solomon, a family animation adaptation of the Biblical story, which it will launch at Toronto.
The completed project is the first feature collaboration between Israel and Hungary since a co-production treaty was signed in January 2016.
Eden Productions of Israel and Cinemon Entertainment of Hungary produce together.
In the English-language movie with Israeli voice cast, a young teenage Solomon must save the kingdom of Jersualem from the evil devil Asmodeus.
After he is banished into the Arabian desert, Solomon teams up with the beautiful Princess Naama of Petra as they seek to put an end to Asmodeus' tyrannical thirst for power.
Albert Hanan Kaminiski, director of the Pettson and Findus trilogy, directs and co-writes with Gyula Böszörményi.
Composer is Ady Cohen, musical director on 2007 hit Enchanted, while art director is Michael Faust, an artist on Waltz With Bashir.
Simon Crowe, CEO of SC Films said: "This is a beautifully told story of a Biblical epic. The only other Israeli feature animation to-date is Waltz with Bashir so we are in good company".
Director Kaminiski stated: "My intention in The Legend of King Solomon is to show the mutual respect between the diverse cultures of this Mediterranean area, and the quest for a shared heritage amongst its races and realms.
"The strong sense of identity, which characterizes the region's cultures, has often provoked war, but also long periods of peace and prosperity. I hope that this film, with an Arab Princess and a Jewish King as protagonists, will be a kind of prophecy and a message of hope for the young generations."
The film is available for immediate delivery. Hungary releases on September 28. United King hold Israeli rights.
SC Films' forthcoming animation slate includes Gnome Alone 3D, which is due to receive a 1,500 screen release in North America this October; Wish 3D (Q4 2017); White Fang 3D (Q1 2018); Charming 3D (Q2 2018); Pachamama (Q3 2018); and Around The World in 80 Days 3D: Reef 3 (Q4 2018).