Sony Pictures Classics has acquired all rights in the US as well as the UK and Latin America to Aisling Walsh's recent Telluride world premiere starring Sally Hawkins and Ethan Hawke.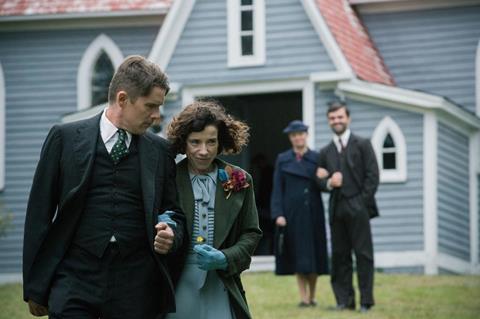 The distributor has also acquired territories in Asia and Eastern Europe as well as Scandinavia, Italy, South Africa, Portugal, Turkey, Greece and Cyprus.
SPC negotiated the deal with CAA and Mongrel International. Maudie received its Canadian premiere in Toronto.
Sherry White wrote the screenplay about the love story between acclaimed Canadian folk artist Maud Lewis and the taciturn Everett Lewis
Bob Cooper produced alongside Mary Young Leckie, Susan Mullen and Mary Sexton, while executive producers are Heather Haldane, Hussain Amarshi, Alan Moloney, Johanna Hogan, Mark Roberts, Sheldon Rabinowitz, Ross Jacobson, Tyler Mitchell and Ed Riche.
Maudie was made with financial participation by Telefilm Canada, the Newfoundland and Labrador Development Corporation, Bell Media's Harold Greenberg Fund, the Ontario Media Development Corporation & Bord Scannán na hÉireann/the Irish Film Board.
The film was produced in association with Corner Piece Capital, LLC & Citadel Canadian Films Inc. Maudie is a Rink Rat Productions/Screen Door/Parallel Films co-production.
Mongrel Media will distribute Maudie in Canada, while Mongrel International has licensed rights to, among others, La Belle Company in France, Transmission in Australia/New Zealand, Hagi in Poland, AUD in South Korea, Front Row in Middle East, MegaCom Film in former Yugoslavia, Karma in Spain, Shoval in Israel and Jaguar for airlines.
As previously announced, Shochiku will distribute in Japan and NFP holds German-speaking Europe and Imagine Film Distribution handles Benelux.