Sony Pictures Classics has planted an awards season pole for Bennett Miller's Cannes competition entry. Separately, Relativity Media has picked up US rights to Hector And The Search For Happiness.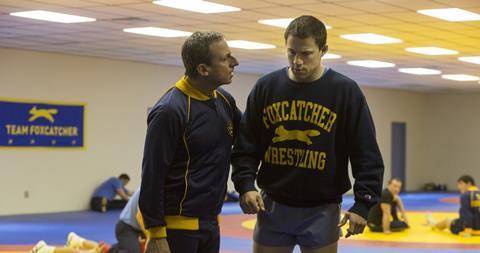 Foxcatcher will launch in the US on November 14 — more than a year later than originally scheduled.
The film was originally scheduled to screen at AFI FEST 2013 prior to a November 7 2013 release, only for the filmmakers to pull it because they needed more time.
Steve Carell, Channing Tatum and Mark Ruffalo star in the bizarre true story about the relationship between Olympic Wrestling Champion brothers Mark and Dave Schultz and eccentric heir John du Pont that led to murder.
Rounding out the cast are Vanessa Redgrave, Sienna Miller and Anthony Michael Hall.
Megan Ellison is co-financing the film with Columbia Pictures and produces through Annapurna Pictures with Miller, Jon Kilik, and Anthony Bregman. Panorama handled international sales.
Relativity Media has picked up US rights to Simon Pegg-starrer Hector And The Search For Happiness. Toni Collette, Rosamund Pike, Stellan Skarsgård, Jean Reno and Christopher Plummer also star in the rom-com. Peter Chelsom directed the film, which will get a platform release on September 26 and expand on October 3. Bankside Films handles international sales.