EXCLUSIVE: UK comedy The Hippopotamus wraps and inks deals.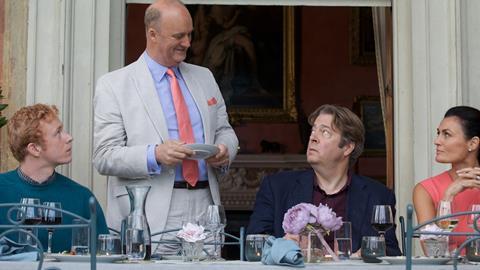 Metrodome International and Metrodome Distribution have boarded world sales rights and UK distribution rights, respectively, to UK comedy The Hippopotamus.
The London-based sales outfit will launch the film at the AFM.
Shoot has now wrapped on the adaptation of Stephen Fry's novel, whose ensemble cast includes Roger Allam (The Woman in Black), Matthew Modine (The Dark Knight Rises), Tim McInnerny (Notting Hill) and Fiona Shaw (Harry Potter).
Producers are Alexa Seligman and Jay Taylor for The Electric Shadow Company, whose recent credits include The Trust with Nicolas Cage and Swallows and Amazons starring Rafe Spall.
John Jencks directs the story about a disgraced poet who is summoned to his friend's country manor to investigate a series of unexplained miracles.
Blanche McIntyre and Tom Hodgson's adaptation is the first Stephen Fry book to be reworked for cinema.
Seligman and Taylor said: "We had two tons of fun shooting The Hippopotamus. The talent in front of and behind the camera was world-class and we managed to get a remarkable result on screen for the audience to enjoy."
Caroline Couret-Delègue, Metrodome International head of sales and acquisitions added: "We're thrilled to be representing this first film adaptation of a book by Stephen Fry.
"Given the extensive reach of the novel, which has already been translated into 14 languages, we think the potential for an existing international audience will be strengthened by the growing demand for uplifting British content."