EXCLUSIVE: Goalpost also inks France deal on Kevin Costner classic Dances With Wolves.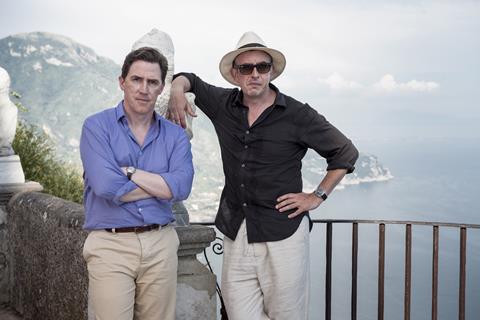 Goalpost Film has scored key pre-sales on the The Trip To Spain, the upcoming third instalment in Michael Winterbottom's popular comedy franchise starring Steve Coogan (Philomena) and Rob Brydon (Cinderella).
Deals have concluded with IFC for the US, Madman for Australia, eOne for Canada, NonStop for Scandinavia, Front Row for Middle East, Challan for South Korea and Cinesky for Airlines.
IFC, which distributed both prior instalments, took $3m at the US box office from well received 2014 edition The Trip To Italy.
IFC president Jonathan Sehring said: "We're very happy to be a key component in what is becoming the most wonderful independent franchise".
Coogan and Brydon play semi-fictionalised versions of themselves in the improvised comedy which will shoot in late 2016, taking in restaurants, gentle bickering and impersonations in Cantabria, the Basque region, Aragon, Rioja, Castile-La Mancha and Andalusia.
Melissa Parmenter (9 Songs) produces alongside Revolution Films, Baby Cow and Small Man.
Sky will broadcast the series in the UK next year but UK sales outfit Goalpost will package the third instalment as a feature, as it has the previous two series.
During Cannes Goalpost also concluded negotiations on an all rights deal for France with Paul Rassam on behalf of Pathe for Kevin Costner classic Dances With Wolves.
Goalpost has recently cleared a number of international rights to the original and extended versions of the multi Oscar-winning western, which Pathe is expected to re-release in late 2016 or early 2017.