From Optimum Releasing to Paddington and Legend, Studiocanal is now the UK's biggest indie producer-distributor. Screen speaks to CEO Danny Perkins.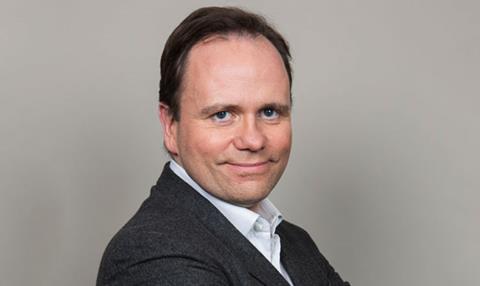 In 1999, the year Danny Perkins, Will Clarke and Paul Higgins launched Optimum Releasing, they set out their stall as smart, nimble new operators in the UK distribution arena by re-releasing black-and-white British classic The Third Man (a Studiocanal film) opposite the George Lucas juggernaut Star Wars: Episode I - The Phantom Menace.
Fast forward to 2016: Studiocanal UK (whose French parent Studiocanal, the subsidiary of pay TV giant Canal Plus, purchased Optimum in 2006) has assumed the mantle of the UK's largest non-studio producer-distributor.
Off the back of huge successes including Paddington and Legend, it now finds itself entrusted with delivering the key building blocks of corporate owner Vivendi's content strategy.
"A lot of the core values are still there," Studiocanal UK CEO Perkins tells Screen of the heady journey from scrappy newcomer to cornerstone player.
"It still feels like the same business, it's still fun. We've grown so much and we're being encouraged to grow even more." (Clarke departed in 2010 and now runs Altitude Films.)
"Studiocanal have very similar values in that they are film fans at heart," he continues. "They put filmmakers at the heart of everything, and are talent friendly. The companies fitted well together and have both grown in the following years because of those shared values."
Growth mandate
Since Didier Lupfer took over last September as chairman and chief executive of Studiocanal, as well as head of cinema at Canal Plus, there is a mandate from the company's owners Vivendi to grow Studiocanal as the corporation's content factory.
Studiocanal UK is an integral cog in that strategy, with Perkins given an expanded role in March to assume responsibility for UK production and securing UK talent, in line with the policy to generate more English-language productions.
"There's more investment from Vivendi in both development and production," says Perkins, who has forged strong, successful partnerships with a who's who of UK producers and production companies, including David Heyman, Working Title, Aardman Animations, See-Saw Films, Blueprint Pictures and Number 9 Films.
"We've had success getting in very early on projects and devising them from the beginning. Because of that success, we're being encouraged to invest more at the development stage and build more projects from the ground up."
Studiocanal's recent purchase of the Paddington IP feeds into the overall strategy, giving the company and its deep-pocketed owners Vivendi new opportunities to expand a beloved franchise - which they successfully re-introduced to a new global audience with the $260m-grossing 2014 hit.
"Owning the brand, we can now look at how to exploit that in terms of our television arm; with Universal Music in terms of live-stage shows; and with Havas [the Vivendi-owned advertising and communications giant] in terms of the brand side. It's a clear strategy to have bigger properties that we can exploit through all those channels, and it's a big push from Vivendi to work ever closer with those partners so we can really maximise the value in anything we're doing."
The sequel to Paddington will shoot this autumn on an increased budget from the original's $55m cost, "and on a bigger scale". Most of the main cast are now confirmed to return, including Hugh Bonneville, Sally Hawkins and Ben Whishaw on vocal duties as the endearing bear, with casting discussions underway for two new major roles including a new villain to take over bear-scaring duties from Nicole Kidman.
"Everything we learnt on Paddington was fantastic but it was at breakneck speed," says Perkins. "To be able to take that experience and have the full creative team back again, we can bring that understanding to the screen and, in due course, to the release."
New talent and musicals
But as well as bigger budgets, Perkins cites the importance of discovering new talent in the first place, pointing out Studiocanal's relationship with Paddington writer-director Paul King, which began when the company produced and distributed his feature debut Bunny And The Bull.
"It's been great to work with people like Paul, Ben Wheatley, Justin Kurzel and Yann Demange, and kind of identify filmmakers who have a real understanding of how to tell a story."
While family films have been declared a key component of the Studiocanal strategy, the other "big push" Perkins identifies for the company going forward is a closer synergy with Vivendi-owned Universal Music Group (UMG) to develop a slate of projects oriented around music.
The first example of this is Ron Howard's documentary The Beatles: Eight Days A Week - The Touring Years, to be released in September, but narrative projects will offer the more significant focus.
"We're developing musical films with screenwriters working with songwriters from the very earliest stages so that we can improve the musical content in a film and improve the film's involvement with the music. Developing the two things together is something that we are now doing on a number of fronts, so it's either film stories around musical events or music influencing film stories."
Perkins cites the example of Yardie, a big-screen adaptation of Victor Headley's novel which Idris Elba will direct, and where discussions are underway with Universal Music about UMG-owned Island Records being involved. The story follows the rise of a young Jamaican in London's drug-dealing underworld, with the 1980s Notting Hill setting suitable to many Island artists from that era.
Meanwhile, Monumental Pictures' Alison Owen and Debra Hayward are developing a remake of a classic musical from the Studiocanal library, and further remakes and original music-themed films are being explored.
"It's an absolute priority for us. It's been interesting exploring the libraries of Universal Music and the libraries of Studiocanal and then bringing those things together and seeing what we can produce from them."
New UK HQ
The new Studiocanal UK headquarters that are currently being built in Pancras Square, near King's Cross, will be shared with UMG. The two companies are scheduled to move in together in 2018, with Havas next door.
In the ten years since Optimum was purchased by Studiocanal, the company has expanded tenfold in terms of revenue. Perkins is confident that upward trajectory won't slow down anytime soon.
"Along the way, we've had nothing but support to grow our production ambitions, to buy bigger films, to release bigger films. And now that Vivendi are more involved in Canal Plus and Studiocanal, we feel we've got them behind us to keep at it and keep growing. There's no shortage of ambition on both sides."