EXCLUSIVE: $15m animation is inspired by Night Of The Living Dead and The Office; UDI scores key deals on Long Way North.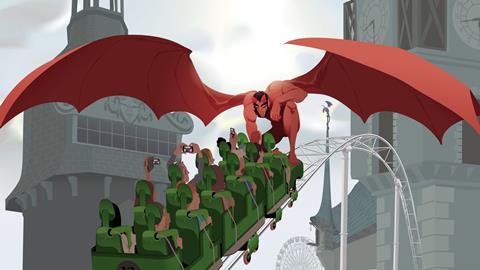 Urban Distribution International has acquired world sales rights to animator and illustrator Arthur de Pins's debut feature Zombillénium, a 3D horror picture aimed at children.
The story – featuring a gallery of monsters, zombies, vampires and werewolves — is based on a trio of comic books by de Pins which have sold more than 300,000 copies worldwide and been translated into nine languages.
It is the director's first feature-length work after a series of animation shorts including The Crab Revolution, which won the audience award at the Annecy International Animated Film Festival, and Geraldine.
The series is set against the backdrop of an amusement/terror park in northern France where zombies, vampires, werewolves and other demons work scaring and thrilling visitors.
It is the only place the monsters can live on earth in plain sight of human beings, although no one understands that they are truly monsters and not park employees in disguise.
In the feature all is not well at the park. Attendance figures are down and the monsters are tired of their day jobs scaring visitors. Something needs to change.
"I first conceived the comics as a great mix between Night Of The Living Dead and [TV series] The Office," explains de Pins. "Like in Freaks, we will discover the real monsters are not the ones we think."
"It all started with a question: what if vampires, werewolves and zombies were living among us today? Would they be working and paying taxes like everyone else," explained de Pins.
The €14m ($15.3) production is lead-produced by Henri Magalon's Maybe Movies with animation companies 2 Minutes, Dupuis Audiovisuel/Dreamwell on board as co-producers.
Specialist animation distributor Gebeka Films - which previously released the Kirikou films and the Oscar-nominated A Cat In Paris – will distribute in France. Broadcaster France 3 Cinema is also on board as a co-producer. Canal Plus and Universal France are also partners.
The production – which features original music by popular French rock band Skip the Use – is due for delivery in 2017.
"It's the first ever zombie and werewolf movie made for kids. That's what I love about the concept, it's a horror movie tailor-made for kids who normally aren't allowed to watch this sort of stuff," said Urban CEO Fréderic Corvez.
He added that the film's strong and original "high concept" combined with the current popularity of animation films with a monster element – such as Hotel Transylvania 3D and Despicable Me – meant the film should work well internationally as well as at home.
UDI is launching sales on the title at Unifrance's Rendez-vous with French Cinema in Paris (Jan 14-18).
Long Way North sales
UDI previously handled international sales on Maybe Movies's last feature-length animation Long Way North by Rémi Chayé about an intrepid young aristocratic girl growing up in Russia at the end of the 19th century who sets off for North Pole in search of her grandfather.
The production – co-produced by Maybe Movies, Sacrebleu Production and Norlum – won the audience award at Annecy last summer.
In other UDI news, the company has announced a raft of sales on that film including to the US (Shout! Factory) and the UK and Ireland (Soda)
Other territories include Belgium (Le Parc), the Netherlands (Periscoop), Luxembourg (Tarantula), Switzerland (Agora), Italy (PFA Films), Spain (Pack Magic), Norway (Storytelling), Denmark (SF), Greece (Videorama), Czech Republic (Artcam), Slovakia (ASFK), ex-Yugoslavia (MRTN), Hungary (Cirko), Poland (Vivarto), Romania (Associatia Culturala Macondo), Bulgaria (Artfest), Estonia (Menufilmid), Turkey (Digiturk) and South Korea (Challan).
Diaphana is due to release Long Way North in France on 150 prints on Jan 27.