From Lynne Ramsay's You Were Never Really Here to Asif Kapadia's Maradona doc, Screen profiles a selection of hot UK projects in 2017.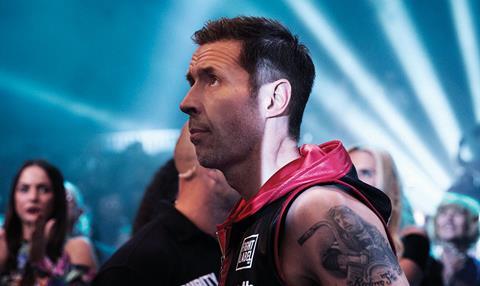 Beast
Dir Michael Pearce
Former Screen International Star of Tomorrow Pearce makes his feature debut with Beast (working title), described as "a love story trapped inside of a horror film". Jessie Buckley stars as a young woman who starts to suspect her new boyfriend could be involved in a spate of killings on the island of Jersey.
Contact: Stray Bear Productions
lauren@straybearfilms.co.uk
Dark River
Dir Clio Barnard
Ruth Wilson, Mark Stanley and Sean Bean star in Barnard's Yorkshire-set drama about a young woman who has to confront traumatic memories when she returns home to the family farm. A Cannes slot is a possibility if the film is ready in time, as Barnard's The Selfish Giant premiered in Directors' Fortnight in 2013.
Contact: Protagonist Pictures
info@protagonistpictures.com
God's Own Country
Dir Francis Lee
Lee's debut feature will premiere in Sundance's World Cinema Dramatic Competition. Josh O'Connor stars as a young man struggling with life on the family farm in rural Yorkshire. He starts an intense relationship with a migrant labourer (Romania's Alec Secareanu). Key crew includes editor Chris Wyatt ('71, This Is England) and cinematographer Joshua James Richards (Songs My Brothers Taught Me).
Contact: Protagonist Pictures
info@protagonistpictures.com
Grace Jones - The Musical Of My Life
Dir Sophie Fiennes
Fiennes directs this documentary about iconic actress, singer and model Grace Jones. The pair have been working on the film - a multi-narrative journey through the private and public life of the performer - since 2005. Picturehouse will release in the UK and the film could be ready in time for Cannes.
Contact: Blinder Films
katie@blinderfilms.com
Journey's End
Dir Saul Dibb
The Duchess and Suite Francaise director Dibb has recruited a cast of Sam Claflin, Paul Bettany, Asa Butterfield and Toby Jones for this adaptation of RC Sherriff's 1928 play. It has been adapted by Simon Reade. The moving First World War drama, set over four days in March 1918, is about an 18-year-old soldier who joins the company commanded by his childhood friend. Both are changed beyond recognition by the war.
Contact: Metro International
sales@metro-films.com
Journeyman
Dir Paddy Considine
After making his directorial debut with the Bafta-winning Tyrannosaur, Considine returns with his second feature, in which he also takes the lead role. The story follows Matty Burton, a champion boxer who slips into a coma after a devastating punch. The cast also includes Jodie Whittaker and Anthony Welsh in addition to real-life boxers. Studiocanal has UK rights.
Contact: Cornerstone Films
office@cornerstonefilm.com
The Killing Of The Sacred Deer
Dir Yorgos Lanthimos
Greek director Lanthimos is readying his second English-language film, which reteams the director with The Lobster's Colin Farrell alongside Nicole Kidman, Alicia Silverstone and former Screen International Stars of Tomorrow Raffey Cassidy and Barry Keoghan. The US-set story follows a charismatic surgeon who has to make an unthinkable sacrifice after a teenage boy he has taken under his wing causes chaos. A24 already has US rights to the psychological thriller.
Contact: Sales HanWay Films
info@hanwayfilms.com
Lean On Pete
Dir Andrew Haigh
Haigh's hotly anticipated follow-up to Berlinale award winner 45 Years is a US-set, longtime passion project for the director, adapted from Willy Vlautin's acclaimed novel. Charlie Plummer stars as a 15-year-old boy who takes a summer job with a washed-up horse trainer (Steve Buscemi) and befriends a racehorse named Lean On Pete. Developed by Film4 and produced by Le Bureau, A24 will release the film in North America and Curzon Artificial Eye has UK rights.
Contact: The Bureau Sales sales@lebureaufilms.com / Celluloid Dreams info@celluloid-dreams.com
Maradona
Dir Asif Kapadia
After hits Senna and Amy, Kapadia's next major biographical documentary is about the Argentinian football icon Diego Maradona. The footballer has given his full support to the film and Kapadia has access to more than 500 hours of unseen footage from Maradona's personal archive. Kapadia premiered his Oscar-winning Amy at Cannes in 2015, and it would be a treat to see Maradona on the Croisette, if the film is ready for May.
Contact: Altitude
info@altitudefilment.com
Mary Magdalene
Dir Garth Davis
After working together on Lion and TV's Top Of The Lake, golden-touch producers See-Saw reteam with Davis for this humanistic portrait of Mary Magdalene, played by Rooney Mara. Set in the Holy Land in the first century, this biopic written by Helen Edmundson and Philippa Goslett will offer a new take on the enigmatic spiritual figure. Partners include Universal - which has rights outside of Australia and New Zealand, where Transmission releases - and Film4.
Contact: Universal Pictures International
Three Billboards Outside Ebbing, Missouri
Dir Martin McDonagh
McDonagh's first feature in five years has a starry cast of Frances McDormand, Woody Harrelson, Sam Rockwell, Peter Dinklage, John Hawkes and Abbie Cornish. The Missouri-set (North Carolina-shot) story is about a frustrated mother who goes to war with police in her small town after her daughter is murdered. McDonagh also wrote the original story. Fox Searchlight and Film4 are co-financing the project, which appears a safe bet for autumn festivals.
Contact: Fox Searchlight
Untitled AA Milne biopic
Dir Simon Curtis
AA Milne, the author of Winnie-The-Pooh, is the subject of this as-yet untitled drama that focuses on the coming of age of Milne's son, Christopher Robin. Curtis, best known for My Week With Marilyn, directs for Fox Searchlight. The cast includes Domhnall Gleeson as Milne, Will Tilston as Christopher, Margot Robbie as his wife and Kelly Macdonald as their nanny. Damian Jones of DJ Films is producing.
Contact: Fox Searchlight
Victoria & Abdul
Dir Stephen Frears
Frears' latest centres on the unlikely friendship between Queen Victoria and a young Indian clerk named Abdul Karim. Michael Gambon, Judi Dench, Olivia Williams and Eddie Izzard head the cast. Focus holds US rights to the Cross Creek, Working Title and BBC co-production.
Contact: Universal Pictures International
Where Hands Touch
Dir Amma Asante
Asante follows her Toronto 2016 title A United Kingdom with another period drama. Where Hands Touch is set in Germany during the Second World War and is about the coming of age of a mixed-race girl (Amandla Stenberg) who starts a relationship with a German soldier (George Mackay). Asante also wrote the film, which she has been trying to make for more than a decade.
Contact: Protagonist Pictures
info@protagonistpictures.com
You Were Never Really Here
Dir Lynne Ramsay
Ramsay returns six years after We Need To Talk About Kevin premiered in Competition at Cannes. Joaquin Phoenix stars as a war veteran trying to save women trapped in the world of sex trafficking. The film is already a hot property: Amazon Studios acquired North American rights for $3.5m at Cannes in 2016 and Studiocanal has UK rights.
Contact: Insiders
sales@insiders-films.com