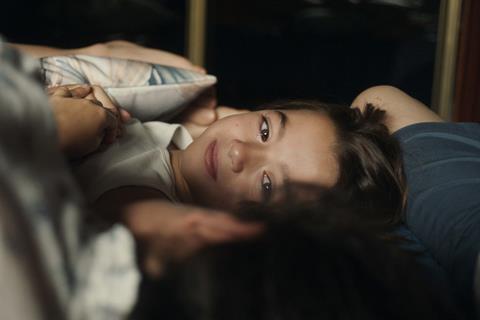 After Spanish director Carla Simon's Golden Bear win last year with Alcarràs, the country's spotlight is now firmly on Estibaliz Urresola Solaguren, whose 20,000 Species Of Bees plays here in Competition.
The Basque filmmaker is no stranger to the international festival circuit; her short film Cuerdas played in Critics' Week at Cannes last May, while 20,000 Species Of Bees took part in the Berlinale Co-Production Market in 2022. Produced by Gariza Films and Inicia Films (the company behind Carla Simon's debut Summer 1993) with Sirimiri Films and sold by Luxbox, 20,000 Species Of Bees focuses on a trans child who explores her identity during a summer spent in her mother's hometown, in the company of her family.
A long list of women filmmakers from Spain have seen their films premiere at festivals in the past few years: Carla Simon alongside Pilar Palomero (Schoolgirls) and Alauda Ruiz de Azua (Lullaby) at the Berlinale; Elena Lopez Riera (The Water) and Clara Roquet (Libertad) in Cannes; and Carlota Pereda (Piggy) at Sundance. What is behind this new wave of women directors?
I think this is the result of policies to promote equal opportunities and correct a historical deficit of women filmmakers in Spain, with key support from the ICAA [the Spanish film body] in funding the work of women in film. Like all changes, results don't happen overnight — they take time and effort, but we are now seeing the fruits of this work. Development labs are also key for first-time directors, and they have helped. They certainly helped me — like The Screen, run by the Madrid film school ECAM.
Also, the more women you see making films, the more you believe you can also do it. Having references is key and will have a very positive impact on future filmmakers. I belong to a generation that studied film history without having seen a single film made by a woman.
What were you hoping to explore when making 20,000 Species Of Bees?
It's a story about identity, and how this is often questioned by the way we're looked at. Two characters are key: a mother [played by Patricia Lopez Arnaiz] in a professional and emotional crisis and her daughter [played by Sofia Otero], who has difficulty interacting with others while being true to how she sees herself.
The transformation that interested me most was that of their relationship in the context of their family, where other members play a key part. I've always been interested in the topic of identity, self-image and the gaze of others. When your sex and your role does not align with what the world expects, it can become a hostile place. That's what the little girl confronts in the film.
Why bees?
Several reasons. The first: the image of the family as a hive. Bees have different and very specific missions in life but are never­theless interconnected and adhere to the rules of the beehive. I found that fascinating and very appropriate to the story I wanted to tell. Bees are also key for ensuring biodiversity in nature.
How did you approach directing the actors?
My priority was to rehearse and create a sense of family — a family that felt true. We spent two months working together before the shoot. With the kids, I thought of situations that had to do with the dramatic conflicts of the film but without rehearsing the dialogues of the scenes. In fact, I never gave them the screenplay. That was very useful.
Sofia [who plays the daughter] was nine years old when the film was shot. She had a talent to cheer up the set; you could feel how the mood lifted when she arrived. In two weeks, she knew all the technical terminology of a shoot even though she had never worked on a set before in her life. She was clearly the queen bee.
Is there any link with Victor Erice's The Spirit Of The Beehive?
Not beyond my admiration for his work and how children see the crudeness of the adult world in his cinema. My film plays with the point of view of the child but also that of the mother, so it differs. In terms of references, I feel very attuned to a lot of Latin American cinema, like the work of Lucrecia Martel and films like La Niña Santa. The work of Alice Rohrwacher is also one of my references.