With the battle against Covid-19 dominating every front page and newscast across every broadcaster in 2020, Chinese-American filmmaker Hao Wu knew 76 Days had to show a different side of the pandemic.
The feature documentary covers that period of time from inside China's hospitals, recording Wuhan's first lockdown on January 23, 2020 through to the city's reopening on April 8. Wu co-directed with Weixi Chen, a video reporter for Esquire China, and another anonymous Chinese journalist.
"I am immensely grateful my co-directors captured rare, enormously moving images with ultimate care and empathy towards those in front of their cameras," says Wu, who is based in New York. "In editing, we made the decision not to include any talking-head commentary or news clips. Instead, we made the film 'small', by focusing exclusively on individual humanistic stories, by providing an unflinching look at the horrors of the pandemic, and by highlighting the little gestures of kindness and the glimmers of hope that sustain us through this catastrophe.
"We did not spend much time in the film explaining the specifics of the outbreak or the beat-by-beat development of the lockdown in Wuhan," he continues. "We aimed to portray a universal story of human resilience in times of immense suffering, which, we hope, will make this film still relevant after the current pandemic is over."
The film has enjoyed a strong festival run following its world premiere at Toronto last September; MTV Documentary Films released in the US and Canada, with Dogwoof handling the UK run. Wins so far include the audience award for documentary feature at AFI Fest.
Tight turnaround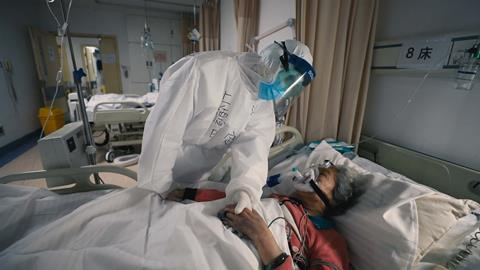 A September 2020 premiere for a cinematic feature film documenting a pandemic that started in January meant working to a tight timeline. As Wuhan went into lockdown in late January, Wu was travelling to Shanghai to spend Chinese New Year with his family, noting how eerie it was to see the empty streets. He learned all he could on social media while isolating at his sister's house.
When he was back home in New York in February, a US network approached Wu, whose credits include All In My Family and People's Republic Of Desire, to make a film about the coronavirus, and he jumped at the idea. "I wanted to find out what was truly happening," he says. When the pandemic went global, the US network dropped out but Wu persisted with the project independently. Jean Tsien, the longtime editor, producer and consultant, joined as a producer in early April 2020. Backers included XTR Film Society and Sundance Institute's Documentary Film Program.
Wu scouted various collaborators who were filming the situation in China from the inside. Footage from Chen and the anonymous filmmaker jumped out at him. "I was shaken. Among the first batch of rushes was the opening scene of the nurse running down the hallway, trying to say goodbye to her dying father. I knew, 'This is so powerful. This is so raw.' Even though I had been reading extensively about what was happening in China as well as the rest of the world, there had been very few humanistic, personal stories that were coming out on the frontlines. That's still the case now. As soon as I saw this footage, I knew there was a film to be made."
One challenge was to track various storylines in a "chaotic" hospital (actually four hospitals), and with the medical professionals wearing hazmat suits and their faces obscured by layers of PPE. Of course, some personalities do emerge — the grieving nurse, the grandfather with dementia who wants to go home. "My collaborators told me they wanted to capture how people in times of crisis really reach out to help each other. These little gestures of kindness and mutual assistance."
Wu's collaborators had amassed 250 hours of footage when he started to edit the film himself. Chen and the anonymous collaborator would upload their daily rushes to cloud servers, and Wu downloaded the footage in New York. The trio sometimes talked on WeChat or Signal, but Wu mostly let them get on with it. "My two co-directors were making most of the filming decisions by themselves on the spot," he says.
By keeping 76 Days apolitical, Wu and his team want the human stories to connect with audiences anywhere in the world. "I am hoping that a film like 76 Days will not only remind people to be vigilant — Covid is not a hoax — but also to remain hopeful," he says.
That lesson can be relevant in 2021 and the years to come. "I hope the film can last past the current news cycle," he continues. "And that people can look back and remember, 'This is how we survived this. Only by helping each other and working together as a group did we survive.'"