With his western News Of The World, Paul Greengrass tells a tale of two lost souls - a war veteran and a child - who bring solace to each other. The filmmaker tells Screen why this story is right for our troubled times
"After 22 July I wanted to do something different," says Paul Greengrass of his 2018 fact-based drama that detailed the 2011 Norway attacks in which 77 people were killed. "It was a film about a very dark subject and left me thinking, like any parent, 'Where's the hope in all of this? What's the road to healing in this bitter and divided world?'
"And then, serendipity being what it is, they sent me the book of News Of The World a few months later. Tom was already attached. And I thought, 'This is perfect, it's a western, an opportunity to do more of a classically shaped film.' But, fundamentally, it is about how to heal. It's set in 1870, but it might as well be today. So I did a new screenplay and that was it."
Based on the novel by Paulette Jiles and co-scripted with Luke Davis (Lion), News Of The World takes place in the aftermath of the American Civil War, and centres on Tom Hanks' Captain Kidd. He is a former Confederate soldier who makes a meagre living travelling across Texas from small town to small town, reading the news "to the people who are grieving in the shadow of the war, terrified by pestilence and pandemic, and struggling to get through life", explains Greengrass.
"This is a world before television, before radio, before social media. This is their entertainment, their contact with the world. And his journey is a little thread that connects community to community and starts the process of rebuilding through the healing act of storytelling."
Contemporary resonance
On the way to another town, Kidd comes across an upturned wagon, a lynched black man, and Johanna (Helena Zengel), a young white girl who was abducted years before by the Kiowa tribe and raised as one of their own. When Kidd tries to leave Johanna at the nearest Union Army outpost, he is charged with returning her to her surviving family and, somewhat reluctantly, agrees.
"What I loved about this story was these two insignificant characters who are both lost, who meet each other in this bitterly divided, reconstruction landscape and go on a journey, and that journey is the road to finding out who they are and where they belong," says Greengrass. "And, in the end, the film shows you it's not going to be about leaders and politicians, it's about ordinary people understanding what they've gone through. I thought that was very interesting, very contemporary and accessible."
Indeed, despite being set more than 150 years ago, News Of The World could be about the US today, with a divided country, racism and the threat of a pandemic among its hot-button topics, all of which were of great appeal to the politically motivated filmmaker. "That's what I tried to bring out when I did my version [of the script], and they just became more pronounced the longer we went on," says Greengrass, talking to Screen International in mid-January. "Once we finished shooting and got to post and Covid happened, they became even more resonant. And the contemporariness of it beat ever more strongly, right up to the events of 10 days ago."
Watching the attack on the US Capitol building by Donald Trump supporters seeking to overthrow the result of the US election, one wondered how Greengrass would recreate it given his predilection for docu­dramas.
"Well, I've had a few approaches," he chortles. "People have emailed and said, 'Would you be interested?' That sort of thing. But I want to get this one done before I think about what's next."
UK-born Greengrass made his name as a journalist and director on ITV's current affairs show World In Action before moving into drama. It was 2004's The Bourne Supremacy that catapulted him onto Hollywood's A‑list and ushered in a new cinematic language for action movies, but Greengrass has long ached to tackle a western. "I grew up with them, as anybody of my age did," says the 65-year-old filmmaker. "They were constantly on television. Bonanza was a hit show. The wild west was like a mythical realm. And when I was a student and a young man, I studied the great masters, [John] Ford and [John] Sturges."
A few years ago, Greengrass took part in Netflix's Five Came Back, a limited series about five directors — John Ford, William Wyler, John Huston, Frank Capra and George Stevens — who, at the peak of their careers, went to document events of the Second World War. "I did John Ford, who I revere, so I spent a month rewatching his films," Greengrass recalls. "And when they sent me News Of The World, I remember thinking, 'This is The Searchers in reverse. This is not John Wayne going out to find the girl in the desert. This is the hero finding the girl in the desert and bringing her home.' And that just felt serendipitous. There's a moment with any film when you have a eureka moment and go, 'I know what to do with this.' And that was it."
Hanks starred in Greengrass's modern-day pirate thriller Captain Phillips and gives another assured performance as Kidd. "Tom gave that character a dignity [and] a slight gospel hint because the news­readers were the gospel preachers back in the day," says the filmmaker. "First of all, it was the good news before it became the news. He sat so well in a western landscape, and is so thoughtful about what he does."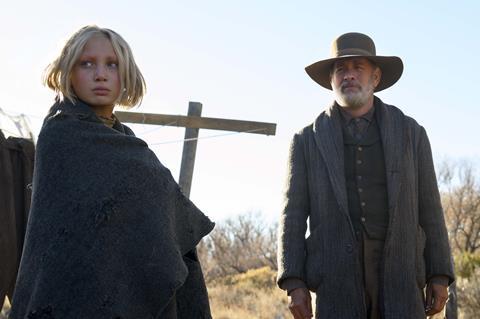 But as good as Hanks is, he is matched by then 11-year-old Zengel, star of Nora Fingscheidt's System Crasher and recipient of one of News Of The World's two Golden Globe nominations as well as a Screen Actors Guild nod.
"I watched it, met her, and she was outstanding," Greengrass reveals. "She has natural ability. She thought about the part, understood camera technique, and had a point of view. She wouldn't always agree [and] I loved that. Sometimes with young actors you have to cut away to protect the performance. You couldn't do that [here] because she was head-to-head with Tom Hanks and had to carry the movie for large sections on her own, and she did."
News Of The World was financed by Universal, which released it in US cinemas on Christmas Day but sold the film internationally to Netflix. "When we shot it, it was a theatrical movie," says Greengrass. "And the date we released was always the date, well before Covid. By the time we came to September, October, the debate was, 'What are we going to do?' There were obviously going to be very few cinemas open. Do we delay a year? Do we stream it only?
"In the end, none of us wanted to delay because we all felt this was a film that spoke to where we are today. I admire Universal for sticking to our plan. And I think we gained something that is even more precious, which is we lit a little candle in the darkness. We said, 'We believe in movies. They will be back.' A little bit like Chris Nolan did with Tenet. We released our movie on the date we said, and wherever cinemas are open, people have been able to come.
"And we all wait for better days, which is what the film is about. I am optimistic theatrical movies will be back in a serious way by the summer. And I think audiences will come back. Telling stories to each other is one of the ways we're going to get through this difficult period."