Playing beloved global icon Princess Diana in Pablo Larrain's Spencer surely ranks as the biggest challenge of Kristen Stewart's two‑decade acting career. Screen talks to her about thriving under pressure.
"I have never been offered a part that was steeped in so much emotion before you even cracked the script," reflects Kristen Stewart of the late Princess Diana in Spencer, a role she committed to during a call with the film's Chilean-born director Pablo Larrain (Jackie) to gauge her interest.
"I love Pablo's movies and there was an assured confidence in his voice that was tempting," she recalls. "So, when he presented the subject matter, my instinct in that moment was, you're not going to not do this. The way he described it, I was like, 'Fuck, this sounds great.'"
Written by Peaky Blinders creator Steven Knight, Spencer announces itself as "a fable from a true tragedy" and imagines three days during Christmas 1991 at Sandringham, in which a vulnerable, bullied, bulimic Diana seemingly falls apart, before finding the inner strength to break free from the House of Windsor.
The film encompasses young sons William and Harry (played by Jack Nielen and Freddie Spry respectively), her disintegrating marriage, a kindly chef (Sean Harris), a royal servant with a crush (Sally Hawkins), body horror and the ghost of Anne Boleyn (Amy Manson).
Fear factor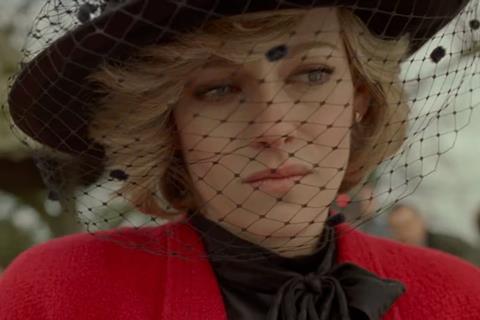 "The idea that we were shoving a whole soul and life into a poetic, surreal psychotropic fantasy felt really daring and audacious and weird," says Stewart. "The script was so precise, even though it's so ambiguous. Usually, those two things don't go together. This was really hitting the mark. It made me so emotional to read it. And scared."
So scared, in fact, that for the two weeks prior to shooting, Stewart "couldn't even open my mouth. I had TMJ [temporomandibular joint disorder] so badly my dialect coach and I were doing exercises and using hot compresses to open it up," she reveals.
"At the time, I didn't clock the fear. It's obvious, in retrospect, I was stressed out. But in the moment, I was like, 'This is so annoying.' Her physicality is very different to mine. The jaw is comparatively unhinged to the way I use my mouth. I barely open my mouth when I talk. I'm from LA, everything's kind of in the back of my throat."
It is not the first time Stewart has played a real person — see her Joan Jett in The Runaways and Jean Seberg in Seberg — but the transformation in Spencer is uncanny. Courtesy of a blonde wig and iconic 1990s fashions, the 31-year-old American looks every bit the royal princess, nailing Diana's plummy accent and breathless delivery.
"I watched everything I could get my hands on, and there's a lot," she says. "But Pablo said, 'If you get one or two things right, people will bring their own idea of her to you.' I tried to absorb her the best I could. Then we just trusted the process, and my impression of her found its way into my body."
Not that filming was easy: Stewart is in virtually every scene, often in close-up, with the camera following her constantly. "It was exhausting. The movie takes place over three days, but we shot for three months. I prepped for four. I don't think I had many conversations outside of the movie. I would collapse in my hotel room at night. But joyously. Pablo never put his camera down. But to be her felt good. I know that sounds silly, but even at her lowest and most isolated, there's something to fight for. She never feels like a lost cause. I felt I was holding and protecting her."
Produced by the director and his brother Juan de Dios Larrain's company Fabula, together with Jonas Dornbach of Komplizen and UK producer Paul Webster's Shoebox Films, in association with Film­Nation Entertainment, Spencer was shot in Germany with Schlosshotel Kronberg near Frankfurt standing in for the interior of Sandringham and Nordkirchen Castle in the northern Rhine region providing the exterior and a few interiors. Being out of the UK meant less unwarranted press attention, while the mostly German crew also proved a godsend to Stewart. "I was so grateful on the first day I didn't have a full British crew standing around going, 'Okay, let's hear it.'"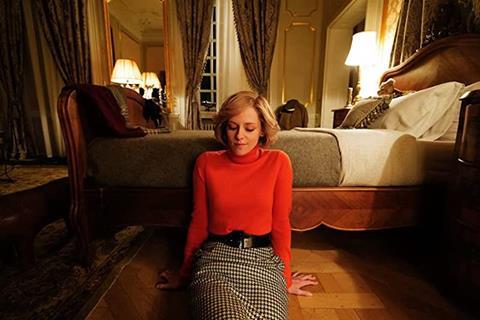 Steeped in the business
Growing up in Los Angeles, with both parents in the screen business — her father is a TV producer, her mother a script supervisor and filmmaker — it was perhaps inevitable Stewart would end up an actress. After bit parts in the Disney Channel's The Thirteenth Year and The Flintstones In Viva Rock Vegas, she played Jodie Foster's daughter in David Fincher's Panic Room, before the lead role of Bella in the Twilight saga saw her become a tabloid fixture thanks to her off-screen relationship with co-star Robert Pattinson. As such, she can relate to the media scrutiny Diana went through. "I definitely know what it feels like to think that everyone's looking at you all the time," she says.
Since finishing Spencer, Stewart has filmed a starring role in Crimes Of The Future, David Cronenberg's reworking of his own 1970 sci-fi film. "It's set in a world where people have evolved to a point where we don't feel physical pain. Sex has changed quite a bit, and the new art form is growing organs. Viggo [Mortensen] is a famous performance artist. Léa Seydoux is his partner who tattoos these organs and displays them. My character becomes enamoured with Viggo's artist."
By the end of 2021, she will also have shot Love Me, another sci-fi project, co-starring Steven Yeun. "The script is one of the strangest, most original things I've encountered," she says. After that Stewart will turn her attention to her long-mooted feature directing debut (she has made several shorts and music videos), her own adaptation of Lidia Yuknavitch's 2011 memoir The Chronology Of Water, which is currently casting and seeking finance.
"I've been working a lot and I love acting, so it's hard to be like, 'No, I will stop and focus on this,'" explains Stewart of its extended gestation. "The story is unruly. It took time to find itself. But I feel the readiest I've ever felt for this movie to start to live."