Aaron Sorkin has enjoyed courtroom dramas since he was a kid.
"I loved reading them, I loved them on stage, I loved them on screen," he says. "All the elements of drama are very clear and organised for you. The jury is a stand-in for the audience; they know as little as the audience does, so exposition isn't awkward. And the dynamic between a lawyer and a witness under cross-examination is nothing but drama. I am certainly drawn to courtroom dramas."
This was apparent in 1989 with Sorkin's breakthrough stage play A Few Good Men, which three years later was adapted into the hit Rob Reiner film and earned Sorkin the first of many Golden Globe screenwriting nominations.
He has remained close to the genre throughout his 38-year career, in the deposition duels of David Fincher's The Social Network (which won him the adapted screenplay Oscar and Bafta in 2011), for example, and his 2018 theatre adaptation of To Kill A Mockingbird. And via the true-life, high-stakes travails of underground-poker queen Molly Bloom, in Sorkin's 2017 directing debut Molly's Game. With his uncanny aptitude for crisp, punchy monologues and witty verbal sparring sessions, honed over years as a showrunner on TV series such as The West Wing and The Newsroom, Sorkin seems born to the genre.
So it is surprising to hear that, when Steven Spielberg first suggested to him in 2006 that he tackle the infamous 1969 trial of the Chicago Seven, he drew a blank. Not that he admitted it to Spielberg. "I said, 'Great, count me in!' And as soon as I left, I called my father and asked him who the Chicago Seven were."
Despite Sorkin's obliviousness (which was swiftly rectified), Spielberg was correct to sense this historical legal drama was ripe material. The story of high-profile anti-Vietnam War protesters brought to trial for allegedly conspiring to incite riots at the 1968 Democratic National Convention in Chicago had it all: the clash of political ideology with harsh, cynical reality; the context of momentous social upheaval; and, most Sorkin of all, the sparks that fly when intelligent, passionate and articulate people collide.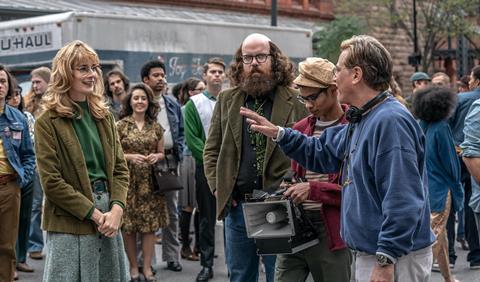 Finding the story
During his years of research, which took in dozens of books, the 21,000-page trial transcript and lengthy conversations with key defendant Tom Hayden (who died in 2016), Sorkin whittled down all the material to three essential strands: "One was the courtroom drama. The second was the evolution of the riot — how did what was supposed to be a peaceful protest devolve into such a violent clash with police and the National Guard? And the third was the personal friction between Tom and Abbie [Hoffman, co-founder of the Youth International Party, or Yippies], two guys on the same side who clearly couldn't stand each other and thought the other was doing harm to the cause."
This final aspect, highlighted by Hayden during Sorkin's time with him, provides the film with some of its most enjoyable scenes, brought to life by Eddie Redmayne as Hayden and Sacha Baron Cohen as Hoffman — another performative political activist with a great sense of comedy. "Obviously, the clownish parts of Abbie he is not uncomfortable doing," says Sorkin of Baron Cohen, laughing. "But I wasn't surprised at how easily and beautifully he played the deadly serious side of Abbie. And like everyone else in the cast — a cast made up largely of people who are used to carrying their own movie — he took to being part of this ensemble like it was a bubble bath."
There is no doubt that, being only Sorkin's second film as a director, The Trial Of The Chicago 7 was ambitious, exacting material. As well as involving a top-class ensemble (including heavyweights such as Frank Langella, Mark Rylance and Michael Keaton), it needed to encompass great scope on a tight budget, which, at $35m, required Sorkin himself and most of the cast to work for scale. During the project's 14-year journey to the screen, it passed through the hands of a number of directors (including Paul Greengrass, Ben Stiller and Gary Ross, after Spielberg let it go), each of whom, according to Sorkin, reached the script's riot scenes and deemed it unmakeable.
"Then Donald Trump was elected president." As Trump started talking at rallies about missing the days when protesters would get the crap beaten out of them, Sorkin felt the film's time had come. "Suddenly it became relevant," he says. "By then I had directed Molly's Game, and Steven was sufficiently pleased with it that he thought I should direct Chicago 7. So now the riots were my problem."
To tackle this troublesome element, Sorkin worked closely with director of photography Phedon Papa­michael and editor Alan Baumgarten to cook up "the right recipe" of wide shots on location in Chicago's Grant Park and Michigan Avenue (where the riots actually took place) that could be partially obscured by tear-gas smoke; "very tight shots" of violence in action; and archive footage selected by Baumgarten from "hours and hours" of material.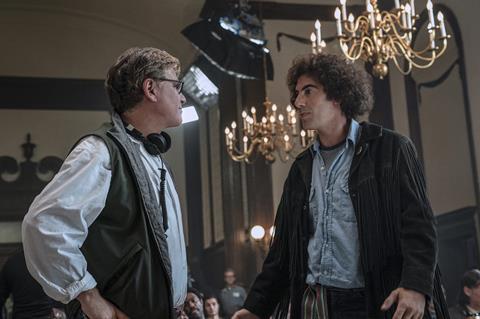 It did not hurt to have a filmmaker of Spielberg's calibre supporting him. Though he has taken no producing credit on the film, Spielberg made himself available to Sorkin. "Here's a relaxing morning," laughs Sorkin. "You go to set, you're directing several of the greatest actors in the world, and Steven Spielberg's standing behind you! He has been incredibly supportive and helpful. I showed him an early cut and he gave four or five notes that just ended up being crucial and really lifted the film a whole other grade."
Release plan
The timeliness of The Trial Of The Chicago 7 made Sorkin determined it be released before the 2020 presidential election — even if that meant diverting it from cinemas as intended (with Paramount as distributor) to streaming on Netflix.
"Of course, as a writer, as a director, you would rather the film be seen on the big screen," he says. "But Net­flix was like a lifeboat that came along, with luxury cabins and a buffet. Other­wise we'd have had to push the film until [2021], which is something we absolutely didn't want to do."
Releasing ahead of November 3 was not, he insists, a matter of persuading people to vote against Trump. "We wanted to come before the election because right now is when we're talking about these things." That relevance only intensified with the protests that followed the killings of George Floyd, Breonna Taylor and Ahmaud Arbery, which were met with nightsticks and tear gas. "If you just degraded the colour a little, it would look exactly like the footage we're using from 1968," notes Sorkin. "And then, as if that wasn't enough, on January 6 Trump did exactly what the Chicago 7 were on trial for doing."
However, the director is keen to point out a fundamental difference between the Maga mob that day and the protesters in 1968. "I hope people understand that what happened at the Capitol on January 6 wasn't a protest. It was an insurrection. It was an attack on the Capitol where people were killed."
For his next project, Sorkin is stepping away from politics, and from his beloved courtroom. "It's called Being The Ricardos," he confirms, "and it's about the relationship between Desi Arnaz and Lucille Ball." But, while he says he wants to continue collaborating with other directors, he is not stepping away from the role himself. And nor should he, given Chicago 7 has earned Sorkin his first nominations for directing, including one from the HFPA, which gave The Trial Of The Chicago 7 five Golden Globe nominations in total.
"In the case of Molly's Game, Chicago 7 and now Being The Ricardos, I still haven't written a screenplay knowing I was gonna be the one directing it," Sorkin admits. "It's always a surprise that I was the director. But I'm enjoying directing and, bit by bit, I think I'm getting better at it, too."