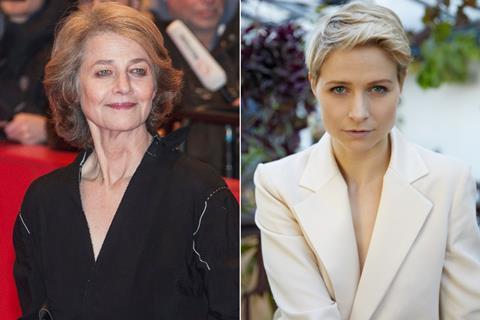 Charlotte Rampling and Niamh Algar will lead the cast of Jodhi May's feature directorial debut Mooring, produced by Bait producers Linn Waite and Kate Byers from the UK's Early Day Films.
Bankside Films has boarded sales on the project and will introduce it to buyers at next week's online European Film Market (EFM, March 1-5). Production dates are yet to be confirmed.
The film follows single mother Megan and her young son Charlie, who are looking to escape the hard life of river nomads; and Eve Hertford, a lady hidden away in her family home, estranged from her son John. When Megan's canal barge becomes beached at the bottom of Eve's property, it forces both women into each other's lives at crucial points.
May will direct from a screenplay by Adrian Bailey. She has previously directed the short Stonebridge, part of anthology feature Everything I Wanted To Tell Me Daughter About Men. Her credits as an actor include Terence Davies' 2016 A Quiet Passion and Michael Mann's 1992 The Last Of The Mohicans.
"It's great to be working with a brilliant team of women, on a powerful drama about the choices mothers have to make," said May. "It's a moving screenplay about connection and coming together; a story of survival that feels very relevant at this moment in time."
Waite and Byers won the 2020 Bafta for outstanding debut by a British writer, director or producer for Bait, alongside director Mark Jenkin. The trio are gearing up to shoot Jenkin's next feature Enys Men at the end of March, backed by Film4.
"It's great to be working with another exciting new cinematic talent," said a statement from the pair. "Jodhi's energy, commitment and her piercing ability to release the emotional depth in storytelling has captivated us."
Following an extensive career in European arthouse cinema, Rampling was Oscar-nominated and won the Berlinale Silver Bear for best actress for 2015's 45 Years. She will next be seen in Denis Villeneuve's action blockbuster Dune.
Algar was named a Screen Star of Tomorrow in 2018, and has appeared in Nick Rowland's Calm With Horses and Prano Bailey-Bond's Sundance 2021 title Censor, as well as TV titles Raised By Wolves and Shane Meadows' The Virtues.