Adam Driver tells Elbert Wyche why he was attracted to the quiet power of Jim Jarmusch's introspective character study Paterson.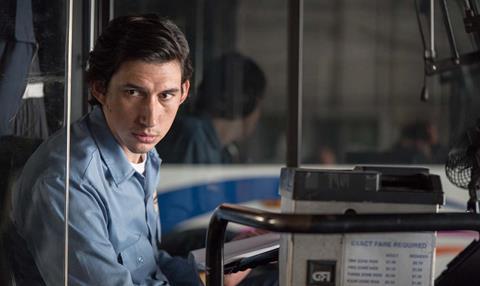 Adam Driver knew he wanted to be an actor from a young age, but the prospect of that becoming a reality appeared unlikely to the Indiana native. "I did a couple of plays in high school but it didn't seem like a realistic job. Being in the Midwest, it's not really a place where that's something you can make a living at doing," he says. Instead, he did a two-year stint in the US Marine Corps - but his military service gave him the courage to go after his dream.
After leaving the Marines in 2004, Driver attended the Juilliard School, the prestigious performing arts conservatory in New York City. After graduating in 2009, his first acting gig was a play called Slipping at the Rattlestick Playwrights Theater in New York, and he followed that up with his first television role in The Unusuals.
The actor cites his turn in HBO's comic drama series Girls as the role that elevated his career and, after starring in 2015's top-grossing movie Star Wars: The Force Awakens, he has now taken a 180-degree turn in subject matter and performance in Jim Jarmusch's latest, Paterson. Debuting in Competition at Cannes, the film is co-produced by Amazon Studios and is being released in both the UK (by Soda Pictures) and the US (by Bleecker Street) before Christmas. It has also sold to several other international territories.
The actor was quick to sign on to the project because of a desire to work with Jarmusch. "I would do anything that he was doing," he explains. "I'd already committed to it before our meeting. I told him, 'Whatever it is you send me, I'm gonna say yes to it.' I got the script the next day and read it immediately. I called him and told him I was in."
Good listener
In the quiet drama, Driver stars in the title role as a bus driver, secret poet and constant observer in Paterson, New Jersey (the character shares a name with the location). "I loved that his main action was to listen," he says of Jarmusch's introspective protagonist. "I love doing that in movies, being in scenes and not having anything to say. It's so fun to just sit and listen. It's a good exercise. I had to trust that the power of thought was cinematic enough."
To prepare for the role, Driver wrote what he calls "bad poetry" in an effort to connect with his character's passion for the medium. He also spent three months training for his bus driver's licence so he could actually drive during filming. "Because [Paterson's] physical life is like a well-worn groove, I didn't want to get there on the day [of filming] thinking about what a particular lever does or at what point I open the doors. I just wanted it to be subconscious at that point. Also, I thought that it would allow us to have a wider option of shots if I could actually drive the bus," says the actor.
Spirit of collaboration
Driver enjoyed being on a Jarmusch set. "It's very focused. He has the ability to be focused but have a sense of humour about everything we're doing. He would have this joke where he would say, 'This is very important, we have to get it right because dozens of people watch my movies.' He's the textbook version of what it means to be collaborative. He loves the people that he surrounds himself with."
The relationship between Paterson and his wife Laura, played by Iran-born actress Golshifteh Farahani, is central to the film. Prior to filming, Jarmusch gave a ringing endorsement of her to Driver, who concurs wholeheartedly. "Because we didn't have a lot of time before we started, you just hope that the actors you're working with are people that can jump in and immediately want to play with you," he says. "She is prepared and also considerate, smart and brings a lot to those scenes."
Despite the buzz surrounding Paterson, Driver has not seen the film; he makes a point of not watching his own movies. "I think I have an impulse to make it look better. I know what it feels like on the inside; I'm not so curious what it looks like on the outside.
"I also come from a theatre background where we don't get to see what it looks like," he adds. "Suddenly what you think is going on in the world of you shooting it is different from what the outside image is, and I don't know that that's important to be thinking about. You can't go back to it. You can't recreate it. I think that's inherent in the way [Paterson] lives his life, which I think is a beautiful thing."