With brother Pedro in Cannes Competition with Julieta, Agustin Almodovar reflects on their role as international producers and why he is less than thrilled with Spain's film landscape. By Elisabet Cabeza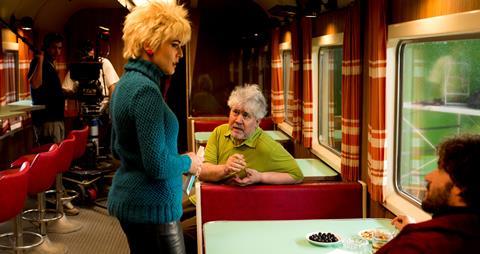 Pedro and Agustin Almodovar, brothers and business partners at production company El Deseo, will share another Cannes experience with Julieta. It is the fifth of Pedro's films to compete for the Palme d'Or and while the older Almodovar has yet to receive that Cannes honour, he has won best director for All About My Mother (1999) and best screenplay for Volver (2006).
Speaking in El Deseo's Madrid headquarters, producer Agustin is delighted to be returning to the Croisette, seeing it as an opportunity to work on the international marketing campaign for Julieta and look for new projects after the company's successful co-production ventures on Damian Szifron's Wild Tales and Pablo Trapero's The Clan. It is especially welcome in the wake of Julieta's release in Spain, where the film did not perform to expectations — something Agustin puts down to the film's genre, a tough drama, and headlines linking the brothers to the Panama Papers scandal the week the film came out. While it received largely positive reviews in Spain, Agustin admits he always felt Julieta might prove a challenge for some audiences.
"Pedro has always mixed genres in his films, but with Julieta there's been a change," he says. "It's a pure drama. If I had to compare it to wine, I'd say it's a single varietal. My first goal as producer is to find a way for Pedro to make the film he dreams of. He made it and we're very happy with the result."
With Bad Education opening the 2004 festival, this marks the sixth time a Pedro Almodovar film has played Cannes. But Agustin explains that El Deseo's link with the festival started much earlier than Pedro's first Competition berth with All About My Mother. "Cannes is part of El Deseo's life. Even films that were not in Competition like Women On The Verge Of A Nervous Breakdown owed a good part of its international success to this festival. I remember they all went crazy about it. Cannes is a festival that believes in auteurs and helps promote their cinema, something that's getting harder and harder to produce, sell and distribute."
The Julieta strategy
On this occasion, international sales for Julieta are in place but the festival offers the Almodovars the chance to meet international distributors and help formulate the selling strategies in their respective territories. "Pedro Almodovar's cinema is both very Spanish and universal so it's important their localism is not misinterpreted," says Agustin.
For Agustin and El Deseo, Cannes is also about finding new talents and projects, since the Madrid-based production company is increasingly involved in producing the work of directors other than Pedro. In 2013, the trail of Oscar-nominated Wild Tales, co-produced by Argentina's K&S, started in Cannes. "We came with the screenplay but it hardly sold," Agustin recalls. A year later, when the film was selected for Competition, "it got wild — all the big territories wanted it. All the main projects in which we have got involved were started in Cannes."
The Almodovars are avid cinema-goers, and when something catches their eye they make a move. It happened with Szifron when they saw On Probation (2005) and it happened with two other Argentinian directors, Pablo Trapero and Lucrecia Martel. They leapt at the chance to work with Trapero on The Clan, also a co-production with K&S, with Matanza Cine and Telefonica Studios; El Deseo also produced Martel's The Headless Woman (in Competition in Cannes 2008) and is behind her latest feature Zama, currently in post-production. Based on a novel by Argentina's Antonio Di Benedetto, Zama is produced by El Deseo, Benjamin Domenech and Santiago Gallelli from Argentina's Rei Cine, Brazil's Bananeira Filmes and France's MPM Film.
When asked about new co-productions, Almodovar says nothing has been decided yet, but they are meeting about projects. So far, Argentina has been their country of choice, but Agustin is not limiting El Deseo's horizons. "We are interested in all Latin America. I'm very drawn to what Chile is doing," he says, describing Pablo Larrain's previous feature, The Club, as a masterpiece. "Spain has to wake up because the best cinema in Spanish is nowadays being made outside Spain."
When it comes to the Spanish industry, where TV companies play an increasingly pivotal role in film production, Agustin sees problems despite the fact that market share for local productions rose to 19% in 2015. "They have managed to bring a mainstream audience back to the cinemas, but it's a product very close to what you find on TV," he says. "I'm not sure how much it's bringing to Spanish cinema. I envy the situation of some countries in Europe like Germany or Italy where a local mainstream cinema co-exists with riskier, more experimental options — a cinema that nurtures future talents. I'm not criticising anybody, I just wish this more mainstream cinema could co-exist with auteur films. The medium-sized budget film has virtually disappeared in Spain."