Dir. Hirokazu Kore-eda. Japan, 2009. 125 min.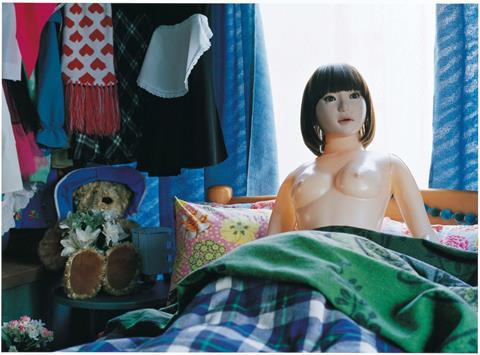 Based on the manga The Pneumatic Figure of a Girl, about a lifesize blow-up doll that stops being "a cheap substitute for sexual satisfaction" and becomes a real person, Air Doll is a philosophical and poetic essay on such weighty matters as innocence, solitude, women as sex objects, the proximity of life and death and the uniqueness of human beings. It wants to be light, airy, smiling and sad at the same time – just like real life. Although the bill may be too ambitious and Kore-eda's approach too diffused, Air Doll does offer food for thought, poetical imagination galore, a touching performance by Korean actress Bae Doo-na in the lead part and superb, crystal-clear images provided by Hong Kong cameraman Mark Lee Ping-bing (In the Mood for Love).
Air Doll could work as a companion piece to Kore-eda's earlier and more coherent Afterlife - the first dealing with the essence of life from the perspective of death, this with the essence of life from the perspective of the living. And certainly, the director's name and past record will draw festival attention as well as large art house audiences.
The director's name and past record will draw festival attention as well as large art house audiences
Hideo (Itao Itsuji), a lonesome waiter, relieves his solitude in the company of an air doll he calls Nozomi. He tells her everything, dresses her, bathes her, and has sex with her every night. Unbeknownst to him, however, Nozomi has acquired a soul and looks to all purposes like any other human being. Every morning after Hideo goes to work, the new Nozomi (Bae) puts on the clothes he bought for her and goes out to explore the world with the innocent curiosity of a small child. In the evening, she comes back home to play the inanimate doll for her master, deceit being one of the first things she masters with her human heart.
Nozomi even gets a daytime job in a video store and develops a relationship with the young attendant there, Junichi (Arata). But strangely enough, Nozomi has not stopped being a doll, when she pricks her arm in the store all the air goes out of her and it is Junichi who is charged with inflating her back to life.
Kore-eda has added a whole cast of characters to this rather thin narrative core. These include a bitter woman who is afraid of being abandoned, a bulimic girl, a single father and his little daughter, an old writer who feels the world has betrayed poetry, a policeman, an older woman who confesses to all sorts of major crimes so she can go to the police station and a doll maker, possibly a bemused personification of God. All of this seeks to illustrate that most people are empty inside, just like inflated dolls, and need to be filled by the presence and companionship of another human being.
A metaphor through and through, Air Doll often meanders through a catalogue of various human foibles (though rapacity is strangely ignored) forgetting that it needs to make not only lyrical but narrative sense. Shot in the old part of Tokyo but effectively using the skyscrapers across the river for contrast, this is an enjoyable work, given time, patience and a contemplative mood – but only under these conditions.
Production Companies
TV Man Union
International Sales
Fortissimo Films
(31) 20 627 3215
Producers
Uratani Toshiro
Hirokazu Kore-eda
Screenplay
Hirokazu Kore-eda, based on the manga by Gouda Yoshiie
Cinematography
Mark Lee Ping-bing
Production design
Kaneko Hiroki
Editor
Hirokazu Kore-eda
Music
World's End Girlfriend
Main Cast
Bae Doo-na
Arata
Itsuji Itao
Joe Odagiri
Masaya Takahashi
Susumu Terajima