Saint Omer director Alice Diop speaks to Screen about the perplexing real-life infanticide case that inspired her debut fiction feature, her desire to confront taboos and what it means to be in the awards conversation.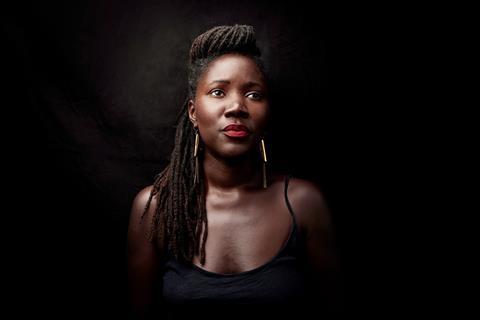 When writer/director Alice Diop glanced at the newspaper one morning, she never expected what would come next. "When I saw it for the first time, I was completely captivated," Diop says of a photo taken by security cameras at Gare du Nord train station in Paris that depicted a woman pushing a baby stroller with a child inside of mixed ethnic origin.
That woman was Senegalese immigrant Fabienne Kabou, who confessed to abandoning her child on a beach in northern France in 2013. "It's hard to admit that I was obsessed with a woman who killed her baby but I was completely fascinated by it," says Diop. "Not by the act, but by this woman and her personality, by her mystery, by the way the press talked about her."
Diop set off to the courtroom in the small French town of Saint-Omer, between Calais and Lille, driven by curiosity and an inexplicable sense of connection to Kabou, despite the act of infanticide she had committed. After five days of observing the trial, Diop — who is also of Senegalese origin and the mother of a child of mixed ethnicity — recalls she was "completely overwhelmed and shaken by what I had just experienced", and also cognisant that other women who had come to watch the trial appeared similarly affected.
"When I understood that this news story forced us to look at something deeply personal inside of ourselves, something taboo, often uncomfortable and violent, that is what made me want to make the movie," she says.
Lauded title
That film — her debut feature — is produced by Srab Films' Toufik Ayadi and Christophe Barral (behind Ladj Ly's 2020 Oscar-nominated Les Misérables), alongside Arte France Cinema and supported by Pictanovo and the Hauts-de-­France region. It went on to win both the Silver Lion grand jury prize and the Lion of the Future (Luigi De Laurentiis) prizes in Venice, and screened at several more major festivals, notably Toronto, New York and BFI London. Wild Bunch International has sold the film across the globe, including to Neon's boutique label Super in the US and Picturehouse Entertainment in the UK.
On the surface, Diop — who wrote the screenplay with Amrita David and Marie NDiaye — has kept Saint Omer's narrative simple. Young female novelist Rama (Kayije Kagame) attends the trial of Laurence Coly (Guslagie Malanda), a highly educated and articulate Senegalese immigrant accused of murdering her 15-month-old daughter.
Coly says she did abandon her baby to drown, yet maintains her "not guilty" plea — an ostensibly contradictory position, but one that becomes the driving force of the film.
Everyone in the courtroom wants to know why she did it, even Laurence herself. When questioned by the judge at the start of the film, she replies: "I don't know. I hope this trial will give me the answer." To reflect this confusion, Diop chose a documentary-­inspired filming technique — long-sequence shots, extended silences and shifting camera angles encourage each viewer to question their beliefs and look for their own answers.
From the time she studied history and visual sociology at the Sorbonne in Paris, Diop has had an enduring desire to bring marginalised stories to wider audiences. Inspired by filmmakers such as Claire Denis and Chantal Akerman, who blur the lines between the real and the fictional, Diop developed her own filmmaking style in an attempt to make the Black experience universal. "I wanted to make films because I felt the world I was living in only showed one side of things," she says.
For Diop, being French "is not just bourgeois white men living in Paris. To be French also means living in neighbourhoods on the outskirts of Paris. To be French is also being a Black woman, living in the countryside, being a minority, being queer. Cinema hasn't always been able to share these stories, but I hope it is becoming more collective, more profound and more complete."
Prior to Saint Omer, Diop made seven non-fiction titles — among them Towards Tenderness, which won the Cesar for best short film in 2017, and We, which won Berlin's Encounters Award in 2021. For her first foray into fiction, she kept the same approach. "My way of making films is to always be in a process of perpetual discovery," she explains. "Saint Omer is almost a continuation of my documentary work, that all led up to this film."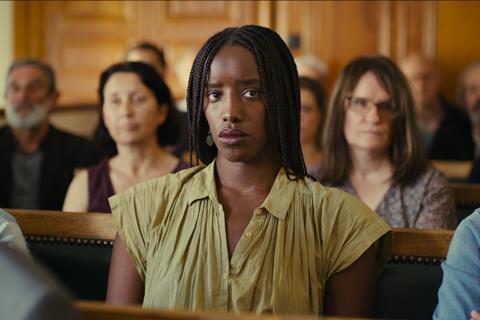 Diop's commitment to realism extended to the casting and direction of her two lead actresses, both of whom had little-to-no film experience. Kagame makes her on-screen debut after studying at the prestigious ENSATT theatre school in Lyon and staging several performances and installations, while Malanda appeared in Jean-Paul Civeyrac's My Friend Victoria (2014), while also working as an independent art curator.
"I worked with the actors like I work with the subjects of my documentaries," notes Diop. "I didn't ask them to create characters. I looked at them for who they are and I invited them to embody the characters, never to become someone else."
Diop did allow herself some dramatic licence at the climax of Saint Omer. While the real Fabienne Kabou was sentenced to 20 years in prison, the film ends without any verdict being given in the case. The director stresses this is by no means "an attempt to forgive the unforgivable," but is instead "more of an homage to the child than an attempt to judge the mother. It's a memorial to the little girl."
She hopes this thought-provoking ending will resonate with audiences long after the credits have rolled. "I hope that when people leave the theatre after the film, even if they can't formulate [a response] right away, or even days later, they will know with certainty that something within them has shifted."
Representing France
Saint Omer has a chance to reach even larger audiences now that it has been selected as France's official submission to the international feature film Oscar category — a choice that is especially weighty this year after a shake-up of the selection committee. France has not won the category since Régis Wargnier's Indochine in 1993 and last year's pick, Julia Ducournau's Titane, failed to make the 15-strong shortlist.
"I feel immense pride… but not personal pride," Diop says of being selected by her country. "Saint Omer is a film carried by two Black actresses directed by a Black French director that is representing France at the Oscars. To be able to say that sentence out loud means something has been accomplished. Thank goodness [audiences] can identify with people that aren't like them. For me, that's the point of art."
Diop says that recognition by her home country also means a widening of horizons in terms of the types of film that can break through. "Saint Omer is not a film based on a narrative. Its form is a way of showing what film can be. So my film represents a renewal of a generation, of the way we tell stories. It affirms the fact this type of filmmaking isn't dead."