The boom in inward investment from international shoots has benefitted Central America's film industries. Elisabet Cabeza reports on an EFM panel hosted by Screen International and Panama Film Commission.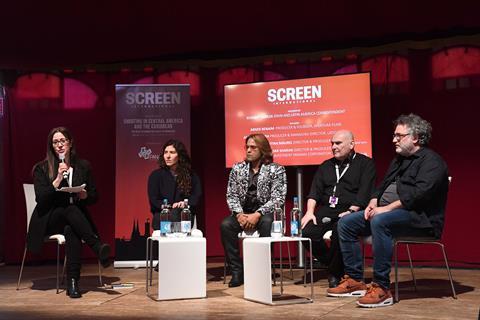 Local and inter­national filmmakers came together at the European Film Market on Sunday, February 23 for the 'Shooting in Central America and the Caribbean' panel, sponsored by Panama Film Commission, in partnership with Screen International.
The panel got underway after an introduction by Richard Kilborn, Panama's national director for the promotion of investments. Abner Benaim, the Panama-based producer, director and screenwriter, and founder and CEO of Apertura Films, explained how he has enjoyed a front-row seat for the transformation of the country's film industry.
Benaim's debut feature, dark comedy Chance, was the first to be released theatrically in Panama in 60 years when it opened in 2010, while his 2014 documentary Invasion was Panama's first submission to the Academy Awards. Most recently his documentary Ruben Blades Is Not My Name picked up the audience award at SXSW in 2018 and was subsequently selected to represent the country at the 2019 Oscars.
"When my first film came out, 10 years ago, there was nothing, really," Benaim said of Panama's industry. "Now we have a very good film festival, a film commission, a film law, a film fund, a film school and courses at the university. Five to six films are made every year."
Inward investment from international film and TV shoots has played a major part in helping to forge a thriving local industry. International productions are drawn in part by Panama's financial incentive that offers a 15% cash rebate on production costs of at least $3m incurred in the country. Recent productions to shoot in Panama include Warner Bros' The Suicide Squad (aka Suicide Squad 2) and Antena 3 and Netflix's Money Heist series.
"The country has a very interesting geography," said Benaim. "You can go from one location to another that looks completely different in a very short journey.
"I am often asked about the incentives by other producers, but I think you also need to have good chemistry with the local industry — find out who is who so you not only fall in love with the landscape but also the people you'll be working with and tailor your production strategy accordingly," he added.
Prabhakar Sharan, vice president of the Indo Latin American Chamber of Commerce and also an actor, director and producer based in Panama and Costa Rica, said: "Inter­national shoots have played a key part in [creating] more and more skilled local crews [in these countries]."
Sharan was born in India but has developed his filmmaking career in Central America. He made Enredados, La Confusion in 2018, a Latin American take on a Bollywood-style film, and works to increase collaboration between the Bollywood industry and Central America. "The new government is supporting the industry a lot," he said of Panama's appeal.
Both he and Benaim are optimistic that a new law will come into force in which the incentive will change from a 15% tax rebate to a 30% tax deduction. "Hopefully it's going to be passed soon," said Benaim.
Talent watch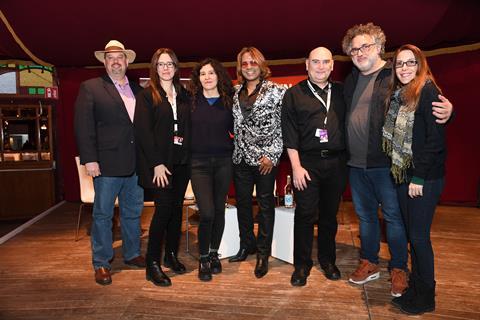 Antonio Saura, executive director of Madrid-based world sales company Latido Films, a force in both Spain and Latin America, emphasised the importance to the local industry of balancing the appeal of the incentives and locations to international producers with the need to ensure the local production sector also benefits.
"Welcome the big industries that bring in money and have a further impact in tourism, with the policies that support the talent — the talent that will tell the stories from those countries," Saura said. He referenced the Dominican Republic, which has facilities including the Pinewood Dominican Republic Studios run by Lantica. "Before, [the local industry] was producing two to three films a year. Now it's up to 30."
Companies such as Latido are always on the lookout for new filmmakers and partners from the region, he explained. "At Latido we have distributed films from Costa Rica, Cuba, the Dominican Republic," said Saura. "We are always scouting for talent. I'm happy to see how things are changing for the better, with very interesting policies in development in the area.
"In the Dominican Republic, for example, [it feels like] there has been a 'before' and 'after' the new law. It shows policies can help foster talent.
"Panama was the first; the number of productions per year has increased noticeably. With new talent come new audiences too. Puerto Rico and Guatemala are also developing very interesting films. The context of the market is very challenging, but I see a very positive evolution in the region."
An example of the new talent emerging from Central America is the Costa Rica-based director Valentina Maurel, a participant in this year's Berlinale Talents. Her short film Paul Is Here won the Cinefondation First Jury Prize at Cannes in 2017. Her second short Lucia En El Limbo screened last year in Critics' Week at Cannes and at Toronto International Film Festival.
She is now working on her first feature, The Burning Garden (El Jardin En Llamas). Maurel described how her return to Costa Rica after years spent studying in Europe inspired her filmmaking career.
"Back in Costa Rica I decided to make a short before embarking on a first feature to find out how to work there," she said. "I realised the value of the human potential aside from the beautiful and diverse landscape.
"The ad industry has helped in developing very skilled crew. It struck me that the crews are very versatile. In Europe people tend to specialise more and more — in Costa Rica people can work in different departments and that's motivating."


The Panama Film Commission is a division under the Ministry of Commerce and Industry, that provides Incentives for the Film Industry. Panama has an interesting range of incentives, available to companies and independent professionals interested in carrying out projects in the country.