Angela Bassett dove to even greater depths in reprising her role as Queen Ramonda in Marvel sequel Black Panther: Wakanda Forever. She tells Valentina Valentini about her run of iconic women on screen, balancing strength with vulnerability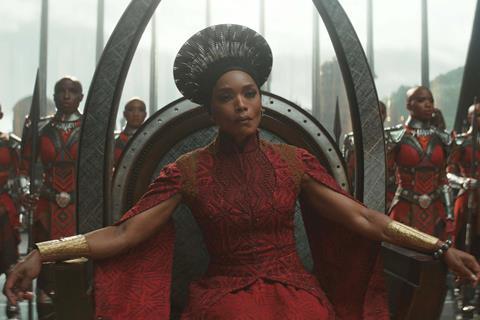 When Angela Bassett was 16, she went to see the now EGOT winner James Earl Jones in the 1974 Broadway production of John Steinbeck's Of Mice And Men, and her career path was set. "I literally was the last person in the theatre to leave," says Bassett, Bafta- and Oscar-­nominated for Black Panther: Wakanda Forever, picking up the first acting nomination from either Academy for the Marvel Cinematic Universe. "I was glued to my seat; ushers were picking up programmes and I was just crying."
Some 30 years later, Bassett, who trained at Yale for its drama MFA programme, would regretfully turn down the opportunity to play Jones's daughter in the Broadway revival of an all-Black On Golden Pond, because she was pregnant with twins. And while theatre remains her "first love", since turning heads in John Singleton's Boyz N The Hood in 1991 and her star-making, Oscar-­nominated role as Tina Turner in What's Love Got To Do With It two years later, Bassett has gone back to the stage only a handful of times. The last time was in 2011 when she starred in Katori Hall's The Mountaintop on Broadway opposite fellow Marvel actor Samuel L Jackson. "If there are any regrets, it's that I didn't toggle back and forth between [stage and screen] more," she says.
But Bassett, who has two features coming out this year, the animated Wildwood and Damsel, a period fantasy adaptation of Rapunzel with Millie Bobby Brown, maintains a laissez-faire attitude toward her career — she does not try to control what is out of her hands. "I try not to worry about that, or pine about it, or drag myself," she explains. "I focus forward, I take care of myself, of my heart. [I try to be] rational about the way things are — about ageing, or maturing, rather, about not doing certain roles that you were able to do before. In life there are always transitions, and [I try] to be aware of that, accepting of that, and embracing of that, and to remain excited about opportunities that do come [my] way."
Iconic roles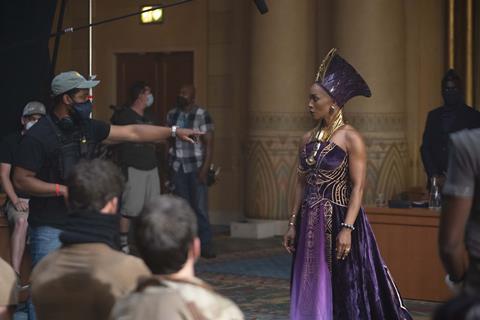 Indeed, Bassett has never ascribed to one type of role — "I don't just look at being number one on the call sheet as the be-all-and-end-all," she says — though her run as famous and iconic women including Coretta Scott King (in TV movie Betty And Coretta), Betty Shabazz (in both Panther and Malcolm X), Rosa Parks (in TV movie The Rosa Parks Story), Katherine Jackson (in the miniseries The Jacksons: An American Dream) and Tina Turner, might suggest otherwise.
Bassett says there is a certain amount of "serendipity" in those choices ("timing was important"), but also allows for "just personally being drawn to women who are compassionate, confident, resilient, power­ful, strong, vulnerable".
"They hold those two things, their vulnerability and their strength and power," she continues. "That's what I'm attracted to, and I found it in those characters, whether it's Betty Shabazz or Rosa Parks, who would seem vastly different, but I find strength and resilience in both of them. Or even mother Katherine Jackson or an abused woman, Tina Turner."
To counter, she has done plenty of action, thriller, voice acting and comic-book work, too, including DC's Green Lantern, Antoine Fuqua's Olympus Has Fallen, Christopher McQuarrie's Mission: Impossible — Fallout, Kathryn Bigelow's Strange Days and, more recently, the lead in Fox's first responders procedural 9‑1‑1, created by Ryan Murphy, Brad Falchuk and Tim Minear.
In 2017, writer/director Ryan Coogler came to her with her first Marvel opportunity: to play Queen Ramonda in Black Panther, mother to King T'Challa, the eponymous superhero immortalised by the late Chadwick Boseman. "I really enjoyed Black Panther and that entire experience, and, of course, its global success," says Bassett. "So, to have another opportunity to revisit Wakanda — that land, that character — and to do it in a more significant way was very much welcomed."
Returning to the role of Queen Ramonda for blockbuster sequel Black Panther: Wakanda Forever, Bassett's approach was more of the same. "Comb through the script to find out what her motives are, her intentions and objectives," she says. "Of course, technically, I had to work on a few things — the dialect and swimming."
Then — spoiler alert — there was her character's fate. Ramonda suffers an untimely death by drowning at the hands of Wakanda's newest enemy Namor (Tenoch Huerta Mejia), leader of the sub-mariners. As far as cinematic deaths go, it was a particularly epic and tragic one. "I was absolutely surprised," says Bassett of Ramonda's death. "In terms of story, it gives the protagonist, our girl Shuri [Letitia Wright], something to fight for; it raises her stakes. But I thought the stakes were pretty high as it was, without her mama dying."
To film Ramonda's drowning, Bassett was required to free dive about 10 feet underwater in a swimming pool. She trained with swim coaches and breathing coaches and impressed herself with learning to lengthen her held breath from 30 seconds to about two minutes. Bassett felt some trepidation about her impending underwater scene, but then there were a couple of breaks in production that gave her more time to prepare.
When it came to the day, she recalls, "You just don't know where the top is, where to break the surface and you're looking for it. There was a little bit of heart palpitation going on because I just didn't think I'd have enough air to do it."
Fortunately, she only had to do it twice. "And I truly appreciate Ryan for that because, oh my gosh, it was getting a little bit much," Bassett notes. "I thought I could do it, and an actor's always up for the challenge. That's sort of the joke early in your career, like, 'Can you skydive? Can you tap dance? Can you ride a horse?' The answer is always yes."
Is the answer still always yes? "The answer is… possibly, maybe," she laughs. "Maybe not a full-on yes. But for [Wakanda Forever] it was yes. For Ryan, I'd do anything."