The legendary editor of Lawrence Of Arabia, Becket and Out Of Sight was in Hollywood on Saturday night [November 12] to collect an honourary Oscar from Richard Gere for her services to the film industry.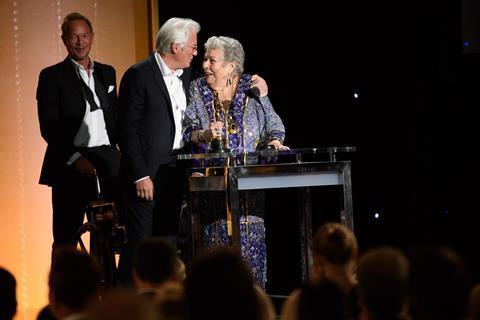 This must have been a novelty for Coates, who did not attend the 35th Academy Awards at the Santa Monica Civic Auditorium in April 1963, when she was declared the winner for Lawrence Of Arabia.
Here Coates, as witty and engaged as ever at the sprightly age of 90, recounts why she did not fly from London on that fateful night, what she learned from the great David Lean, and what makes George Clooney laugh.
Coates earned a further four Oscar nominations for Becket, The Elephant Man, In The Line Of Fire and, most recently, Out Of Sight. Her credits include Fifty Shades Of Grey, The Golden Compass, Extraordinary Measures, and Chaplin.
She also earned the ACE (American Cinema Editors) lifetime achievement award in 1995 and was a four-time nominee for individual work; the BAFTA Fellowship in 2007 alongside four individual nominations; and the Los Angeles Film Critics Association's career achievement award in 2015.
Coates was married to the late director Douglas Hickox and has three children, all of whom are in the film business.
Anne, many congratulations. How did you hear you were to receive the honourary Oscar?
I was somewhat surprised, I have to say. When Cheryl [Boone Isaacs, Academy president] rang me up she asked if was sitting down and I said, 'Actually I'm lying down,' and she said, 'Even better!
What does the award mean to you?
I don't think most people know what we do. So I'm happy to get an award like this because it gets some recognition for editors, who are generally passed by. American Cinema Editors [the guild ACE] is trying to get us greater recognition and an award like this goes a long way.
You will attend this ceremony – unlike the Oscars in 1963, when you won on the night for Lawrence Of Arabia. Take us back to that great occasion
I never went to Hollywood and I'm really happy to be going this time. When I won the Oscar they didn't invite people like they do now. They weren't paying us to go out there and I would not have gone without my husband. I didn't know anything about the Oscars and didn't know you were meant to go if you were nominated. I was woken up by our friend, who told me I had won. She beat David [Lean] by about ten minutes. We were all laughing down the phone.
You gained attention after your first major credit on Pickwick Papers. How did Lawrence Of Arabia come about for you?
By chance, we used to live opposite Harrods [the famous department store in Knightsbridge, London] and my husband and I used to go across the road to a juice bar on Saturday morning. We bumped into a friend called Gerry O'Hara, who was a first assistant director, and he said he was doing these tests with Peter O'Toole and Albert Finney for what was then called The Seven Pillars Of Wisdom. By Monday mid-day he called me back and asked if I wanted to do a couple of weeks' work.

I hadn't met David [Lean] but I knew [cinematographer] Ronny Neame, who was a friend of David's and I suddenly found myself on it. So we did the Arab sequence first and I cut that and David asked wanted to see it because he hadn't seen anything. The crew was there and I was terrified. I cut the sequence and was so frightened and David got up in the end and said, 'That's the first time I have ever seen a piece of film cut exactly the way I would have done it.' It was one of the most treasured remarks I've ever heard. It gave me a lot of confidence.
What were some of the tips Lean gave you?
I learned a lot from David. He told me to follow my heart and soul and ideas and have the courage of my convictions. I didn't put forward many suggestions to start with because he was a top editor, so I was very careful. Then I got a little braver and put forward an idea that I thought was rather interesting. David told me, 'What a ridiculous idea!' A few days later he told me it would be rather an interesting idea – I was blossoming. And so we went on like that: sometimes he scoffed at them and sometimes he liked them. He told me to say what I believed in and not worry about what he might say.
It was great working with him. I got a bit bored of him telling me about the desert in Jordan. I managed to get out to Spain [on the shoot], but never got to Jordan. He told me I was lucky not to have gone there.
Did you know what you had while you were making the film?
I don't think anybody realised what an exceptional film it was. We thought it was very good and the dailies were great but you got spoiled with those wonderful images – David knew how to shoot against a big background. I learned such a lot from him in many ways. We cut the film down by about 15 minutes two months after we finished and he was in a hurry to get it ready for the Queen for the world premiere. We cut another 20 minutes about seven years later.
What happened after Lawrence Of Arabia?
It did a lot for my confidence and my career. I doubt I would be where I am if I hadn't done Lawrence Of Arabia, because Hal B Wallis [the legendary producer of Casablanca] came over halfway through and look at some of Peter's [O'Toole] work and we shared some of the sequences and he signed me up [for Becket, which also starred O'Toole]. He must have thought I would ask for too much money if I won the Oscar so he signed me up before I won it!
You spoke of a remark by Lean that you treasured. Any others come to mind?
[The Third Man director] Sir Carol Reed. I was doing his last film [The Public Eye, 1972] and he was a very charming man and said, 'There are lots of really good editors, but I have never had one with so much heart.' It was very touching."
You eventually moved into editing digitally. What was that transformation like?
It was difficult to learn at first but there are amazing things you can do digitally. The first film I did digitally was Congo [1995]. I learned on Lightworks, which is an English version of Avid. On Out Of Sight Steven Soderbergh wanted me to edit on Avid, so I was really annoyed because I thought once I had got Lightworks under my belt I wouldn't have to lean another thing.

Was that were you met George Clooney?
Yes, that's how I got friendly with George Clooney. I'd been complaining to him about having to work on Avid it but I realised I was essentially doing the same thing – cutting and saving actors' performances. He thought that was hilarious. Then Jennifer Lopez came along and he introduced me to her as the person who was going to save her performance.
How did she react?
She was not amused!
And your last film was Fifty Shades Of Grey. Tell us about that
At the end of it my back was giving me a lot of problems, so I am leaning towards 'doctoring' jobs now that are a few weeks long, rather than a whole film. I wanted to make Fifty Shades sexier. I came up with some great ideas and they were worried they wouldn't get an R!
Your children have followed you into the film business
Yes, I have three gorgeous kids. My boys are writer-directors and my daughter [Emma Hickox] is an editor and did Bad Moms. I tried to get one of them to be an architect like my father, but they all went into films. I didn't want them to be actors because it's such a precarious life.