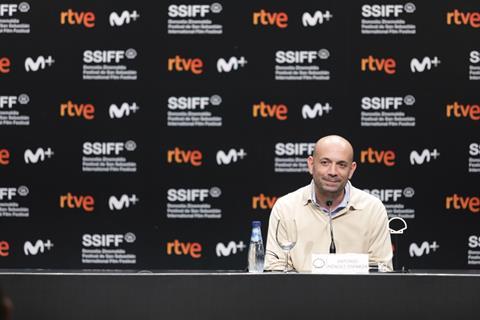 Antonio Méndez Esparza's Courtroom 3H is one of the two feature documentaries screening in competition at San Sebastian. The other is Julien Temple's Crock Of Gold: A Few Rounds With Shane MacGowan while Matt Dillon's The Great Felloveis screening out of competition. All are world premieres.
Courtroom 3H is an observational documentary set in Florida, where the Spanish director lives and works; specifically, in a family court that deals with parents and children, mostly cases of custody and abuse. The film was sparked by ideas and issues Méndez Esparza had started to explore in his 2017 fiction film Life And Nothing More, about a working-class family in Florida.
"[In that film] the judicial procedure was only a narrative tool, But spending time in the courtroom made me curious. I felt there were a lot of stories to be told," explains Méndez Esparza. "I was attracted to the idea of a courtroom whose goal is not so much to punish but to try and help people."
The people he met while resarching Life And Nothing More, particularly a judge, proved invaluable when making Courtroom 3H. "That helped when it came to shoot the different cases that build up the narrative of the documentary."
Courtroom 3H is Méndez Esparza's third feature but his first documentary. It is a Spain-US production between Méndez Esparza's own Aquí y Allí Films (named after first feature Aquí Y Allá, which won the Critics Week award in Cannes in 2012) and 9AM Media Lab.
He cites Frederick Wiseman and Raymond Depardon as documentarians he admires. Indeed, Courtroom 3H has been favourably compared to Wiseman's City Hall, Ex-Libris-New York Public Library.
"I've always loved the idea of filming as discovery and documentary is perfect for that," he says. "As a filmmaker you always have the work of others in mind."
He also points to the work of Spanish documentary filmmakers Oliver Laxe and Loïs Patiño as inspirations.
Méndez Esparza's experience on Courtroom 3H means he is planning on preserving a documentary feel in his next fiction project which he hope to shoot next year.Que Nadie Duerma (literally May Nobody Sleep) is based on a novel by Juan José Millás and Méndez Esparza is now writing the screenplay with Clara Roquet.
"It's got a wonderful main character, a woman named Lucía, fantastic dialogue and lots of room for my imagination when it comes to adapt it," he enthuses.
Malena Alterio is set to star and Aquí Y Allí Films is again producing. "It's the first time I'll be working with professional actors," Méndez Esparza reveals but says he may also have non-professional actors in the cast too.
"The story has a touch of comedy," he adds. "It's in the tradition of Spanish classic comedies such as Luis García Berlanga. Comedy but also elements of tragedy and rage."