Screen's inaugural Arab Stars of Tomorrow showcases the region's up-and-coming young talent. Director Alaa Eddine Aljem founded his own company to produce his works, and his tenacity has resulted in high-profile support.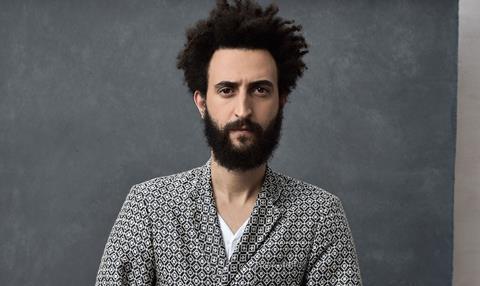 Alaa Eddine Aljem
Writer-director (Morocco)
Alaa Eddine Aljem recently completed the Sundance Institute's 2016 Screenwriters Lab, where he worked on the script for his upcoming debut feature The Unknown Saint (Saint Inconnu). "It really helped me strip down the screenplay and inject some fresh ideas," says the Moroccan director of the summer workshop, where he was mentored by Oscar-winning writer Charles Randolph (The Big Short), Brazilian writer-director Karim Aïnouz and Canadian-Indian film-maker Deepa Mehta.
His desert-set black comedy is about a thief on the run from the police who hastily buries his loot on a remote hill — only to discover on his return years later that a sacred sanctuary has been built on the spot, which has become a pilgrimage destination. The project was presented at Locarno's Open Doors section and attended the La Fabrique des Cinémas du Monde initiative at Cannes this year, where the production connected with French producer Alexa Rivero of Paris-based Altamar Films.
Aljem says he first became interested in cinema after failing a competitive exam for a computer-engineering course as a teenager. "I hardly watched the TV or went to the cinema as a child. I wanted to study computer engineering. When I failed the exam, I didn't have a plan B, "he explains. "I fell into a depression and I ended up watching four, five films a day. It was through that I came to understand the power of film to transport you out of everyday life."
Spurred by his newfound passion, Aljem secured a place at the fledgling film department of the Marrakech School of Visual Arts (ESAVM), where he gained experience on the ground with local production houses servicing international productions.
From there, he secured a place on a cinema directing, screenwriting and producing Masters course at the prestigious INSAS art school in Brussels, working as a production assistant to fund his studies, collaborating with Portuguese director and producer Tiago Mesquita's company Crafted Films and Neon Rouge Production.
He returned to Morocco in 2014 to shoot his first non-student short, Desert Fish, about a boy growing up in the southern desert of Morocco who dreams of becoming a fisherman against his land-loving father's wishes.
Aljem's progress stalled, however, because he could not convince a local production company to board the project alongside Belgian outfit Neon Rouge, which had secured the support of French state TV station France 3.
"By law, you can't shoot in Morocco unless you have a local company attached. I soon discovered that Morocco's established producers had no interest whatsoever in shorts and also realised that many of my former ESAVM classmates were in the same boat," says Aljem. "So I set up a production company to produce all the work that no-one else wanted to produce, i.e. the short films."
So was born Casablanca-based production house Le Moindre Geste, which Aljem set up with producer Francesca Duca. It quickly expanded into creative documentaries after Aljem met a number of young film-makers at Agadir International Documentary Film Festival, who were also facing the same problem.
He finally completed Desert Fish at the end of 2014 and it went on to sweep the boards in the shorts category at the Moroccan National Film Festival in 2015.
Other Le Moindre Geste productions to date include Hicham Elladdaqi's documentary The Bread Road (La Route Du Pain), which captures the everyday life of the jobless inhabitants of one of Marrakech's poorer neighbourhoods. It was a co-production with Neon Rouge and French Tact Production.
Aljem is now focused on The Unknown Saint, which he hopes to shoot next year. "Like Desert Fish, it will be set in the desert and feature a similar aesthetic with lots of wide-angle shots. But the rhythm will be faster, it will be less contemplative," explains Aljem. "There will be more humour in a more laidback film."
Contact: Le Moindre Geste, alaa.e.aljem@gmail.com
More Arab Stars of Tomorrow: