Screen's inaugural Arab Stars of Tomorrow showcases the region's up-and-coming young talent. Former medial student Mariam Alferjani is now preparing her first feature as a director.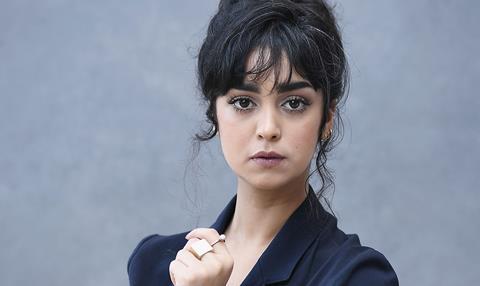 Mariam Alferjani
Actress, film-maker (Tunisia)
Mariam Alferjani was studying medicine in her native Tunisia five years ago when she happened to meet compatriot film-maker Leyla Bouzid through a mutual friend. Bouzid, who has since made her critically acclaimed debut feature As I Open My Eyes, cast Alferjani in her 2012 graduation short Soubresauts, about a mother's attempt to get to the bottom of her daughter's attack during a night out with friends.
"I felt so at home on the set, I decided that's what I wanted to do," says Alferjani, who speaks Arabic, English, French and Italian. She dropped her medical studies and enrolled in directing and acting courses at the Civica Scuola di Cinema Luchino Visconti in Milan, where her diplomat father was based at the time.
The four years studying medicine were not a waste of time, she says: "It was a magnificent domain from which to cross over into the arts because in the early years it's all about observation."
Outside of term-time, Alferjani headed home to Tunisia to direct and star in experimental shorts The Claim (Al Ediaa) and Wintry (Shatwi), based on the work of Egyptian poet Youssef Rakha. Tunisian film-maker Ala Eddine Slim, whose debut picture The Last Of Us won Venice's Lion of the Future-Luigi De Laurentiis award in September, also worked on the shorts. It was a collaboration that originated in the creative scene that has sprung up in Tunis following the 2011 popular rising. "There has been an upsurge in creativity linked to the fact younger generations are able to express themselves more freely," says Alferjani. "It's become quite a hub."
Alongside her cinema studies, she is also building a following for her photographic self-portraits taken against the backdrop of intricately posed settings in which Alferjani inhabits various fantasy characters. This artistic passion was encouraged by Bouzid, who gave Alferjani a camera after the shoot of Soubresauts. "It's been likened to the work of Cindy Sherman but at the same time it's very different," explains Alferjani, who recently exhibited at an event organised by the travelling Tunisian artists collective La Maison de la Plage, in a show entitled Where Did We Meet Before?.
Since graduating from the Civica Scuola di Cinema in 2015, Alferjani has been living and working between Tunis and Milan. She will appear on the big screen in 2017 in up-and-coming Tunisian director Kaouther Ben Hania's debut fiction feature Beauty And The Dogs, starring as a young woman fighting for justice after she is raped by corrupt police officers during a night out in Tunis.
This follows Ben Hania's award-winning documentary Zaineb Hates The Snow and mockumentary Challat Of Tunis. The director contacted Alferjani on the back of her performance in Soubresauts. Based on a real-life tale, Beauty And The Dogs is a searing critique of society at large — not just in Tunisia — and the way it views women. "It's about a person fighting for her rights. It's not a movie against the police, it's a movie about the cruelty of human beings," says the young film-maker.
Back in Milan, Alferjani is writing the screenplay for her first feature-length film. Provisionally entitled Alya, it will revolve around a young Tunisian woman with a passion for travel who finds herself increasingly hemmed-in because of her Arab origins and gender.
"I get the feeling it's becoming more and more difficult for people to wander, to travel, for reasons beyond their control. We haven't chosen to be Arab, to be a woman, or to be where we find ourselves. Our realities are often down to chance and the film will explore this through the voyage of a woman," says Alferjani.
Contact: Mariam Alferjani elferjani.mariam@gmail.com
More Arab Stars of Tomorrow: