A Hero could see Iran's Asghar Farhadi win his third international feature film Oscar — making him the first three-time winner since Ingmar Bergman. Screen talks to the fêted awards contender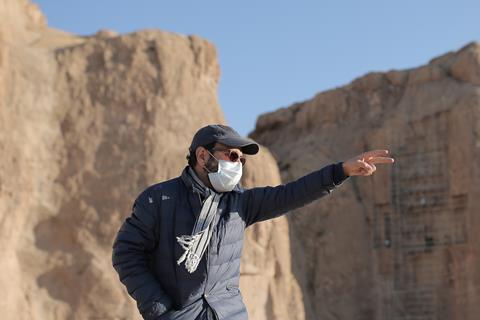 Asghar Farhadi is back in the awards race with his latest feature A Hero, Iran's entry to the Academy Awards. The film, which won the grand prix at Cannes in July, is a cautionary tale about debt, deception, family ties and the real nature of heroism.
Double Oscar winner Farhadi is speaking to Screen from Los Angeles just three weeks after A Hero opened in cinemas back in Iran. The film, he reveals, is doing decent business there, reaching more than 250,000 admissions in spite of Covid-related capacity limitations in cinemas.
"If the film is popular with the audience, it stays in the theatres for quite a few months before going to VoD," he explains, with regard to the distribution system in Iran.
Amazon bought US and UK rights to A Hero. The director calls himself "really satisfied" with the work of the online giant, which is giving the film a theatrical release in its territories on January 7 before it's made available to stream two weeks later.
A Hero opens with its protagonist Rahim (Amir Jadidi, best known internationally for 2018's Cold Sweat) working through a prison sentence after failing to pay off a loan. Together with the woman he plans to marry, Rahim comes up with a scheme he hopes will satisfy his creditor (Mohsen Tanabandeh). His secret fiancée (Sahar Goldust) has just found a handbag with some gold coins in it — and Rahim might be able to leverage this booty to secure his freedom.
The character of Rahim is first encountered on a short leave from prison, visiting his sister's husband at a construction site high up a cliff face amid the spectacular beauty of the tombs of Persepolis. "Even before I started writing the script, I went to see this city of Shiraz," explains Farhadi. "The atmosphere is [so] cinematic that I had to find a way to bring this location into the film. And the location has a link with the concept of my story."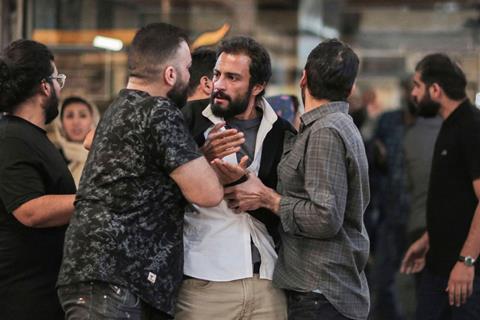 The director speaks of the nostalgia and pride Iranians feel in the glories of Persian civilisation. Persepolis was where all the "people we are proud of" came from. But his film is about a very different kind of protagonist, a contemporary figure who quickly turns out to have feet of clay — and not really to be a hero at all.
Rahim is one of those movie characters likely to charm and exasperate audiences: they may root for him at the start before growing increasingly dismayed by his erratic behaviour. "Some audiences like him. Some think he is sleazy," acknowledges Farhadi on how Rahim has divided opinions. "He is a simple man who is kind of passive and lets everybody else make decisions for him until the end of the film — and this is not something we like as an audience."
Casting call
Rahim's son (played by Saleh Karimai) remains doggedly loyal to his father irrespective of his scrapes. The boy has a stutter, and Farhadi talks of the exhaustive casting process he went through to find someone with both the vocal disorder required for the role and the ability to play it.
"This is a very smart and talented boy. We started to look at all the boys who had a speech impediment in that town. Then we found this boy. And for a long time, my assistant was rehearsing with him. [But] because it was in the Covid time and he was at an age where they grow very fast, he was getting bigger and bigger — and I was getting nervous about it," Farhadi says of a period that saw the film's shoot dates shifting. The creditor's daughter is played by Farhadi's own daughter, Sarina Farhadi, who was also in A Separation.
A Hero marks Farhadi's return to Iran after shooting Everybody Knows, starring Penelope Cruz and Javier Bardem, in Spain. He enjoyed making the 2018 film ("one of the most peaceful periods of my whole life") but adds: "Whenever I work outside of Iran, I have to go back and make a movie inside of Iran because it's the place I was raised and I know that place better."
How has the director managed to continue working in Iran while some of his contemporaries, such as Jafar Panahi and Mohammad Rasoulof, have faced such trouble with the authorities? Farhadi gives a measured response. "I am really sorry for the filmmakers who have problems in Iran and whose movies don't get screened in Iran," he says. "I always feel this sadness inside me because of this issue. Whenever something like that has happened, I have always talked about it."
Farhadi takes a pragmatic approach to his own work — he did not even try to release Everybody Knows in Iran. "I knew they weren't going to show it," he explains of why he saved himself the effort. "For my other movies, maybe my way of story­telling, the way I shape the narrative, is the reason they [the authorities] screen my films in Iran.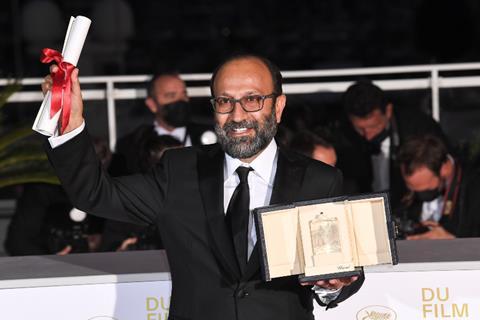 "I don't know how much longer it will be possible but my first aim is always to show my films in my country, before any other country in the world. This is a huge goal for me. The most important audience for me is the audience inside Iran."
Farhadi remains modest about the two Oscars he has already won, for A Separation and The Salesman, back when the international feature category was called best foreign-language film. The main consequence, he says, is that his films were able to reach a bigger audience internationally. But the success has not changed the way he makes films. "I was making movies [this way] before A Separation, and now I am [still] making them the same way. In my personal life, and in my connections to the people around me, it hasn't changed me at all."
A Hero has a French producer, Alexandre Mallet-Guy, of Memento Production. Farhadi points out the relationship between the pair is not any marriage of convenience made to capitalise on his growing international profile — they were collaborating as early as 2009, when Memento released Farhadi's About Elly.
"He is not just my European partner, he is my friend," Farhadi notes of Mallet-Guy. "We are so close to each other right now that we understand each other's tastes.
"He does all the distribution of the film outside Iran, and it helps me to not have to think about that part anymore," Farhadi continues. "A big part of post-production happened in France and he helped us with that. Working together is joyful for both of us."
Farhadi did not travel to Los Angeles for the Oscar ceremony in 2017 because of his opposition to president Donald Trump's administration and its anti-Muslim policies. However, he is now happy to come back to the US.
"It has been two or three years in which I haven't left Iran that many times because of Covid and because I was making this film," he declares. "My travels start around now."