Moonlight director Barry Jenkins tells Screen about his 10-year journey to bring James Baldwin's 1974 novel to the screen and why he remains confident in the future of cinema.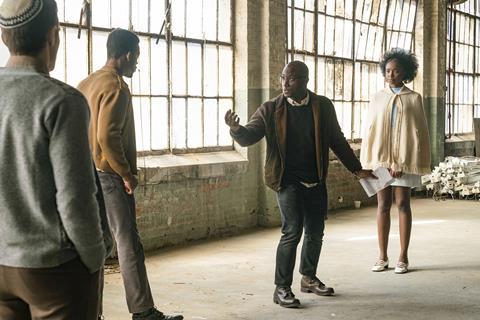 It is fair to say director Barry Jenkins did not let the success of Moonlight go to his head. "When I send an email, there's now a really good chance someone will reply," he says. "I can't say that was the case before Moonlight."
Jenkins chose to follow up the 2017 best picture Oscar winner — which triumphed in farcical circumstances thanks to that infamous envelope mix-up — with a project he'd been pursuing for almost 10 years: an adaptation of James Baldwin's 1974 novel If Beale Street Could Talk. A love story set in 1970s Harlem, New York City, it follows a young African-American couple, Tish (KiKi Layne) and Fonny (Stephan James), whose lives are ripped apart when Fonny is falsely accused of rape. Regina King, Colman Domingo and Ed Skrein co-star.
Jenkins first became interested in the book back in 2009, after a friend suggested he would make "a really good movie" out of it. It was, however, another four years before he started writing a version of the script while on a trip to Europe.
"I wasn't actually considering making the film — it was just about the writing," he recalls. "It was only after doing the first draft that I thought, 'Oh I should send this to the Baldwin estate.'" (The author died in 1987.)
"At that point in my career I wasn't someone who had a lot of power, a lot of access or a lot of history," adds Jenkins. "I had no track record, so the best thing I could do was show [them] what my intentions were. I said, 'I'm not trying to hide anything. I wrote it without the rights. I want to show you what I intend to do.' It was a very upfront process."
Earning trust
After receiving his draft, Baldwin's estate, which is comprised of the author's relatives, sent Jenkins a typewritten letter that said: "We've received your script, please be patient with us."
Dealing with them, says Jenkins, was "like putting a message in a bottle and sending it off, then a bottle washes up on my shore, and so on. It was really organic and lovely. I can't imagine James Baldwin writing an email. The family had to collectively feel that I would be a person to entrust the legacy with."
It was Jenkins's debut film, 2008's Medicine For Melancholy, that convinced the Baldwin family he was the right man for Beale Street, he says. But it was the contacts he made during and after the making of Moonlight in 2016 that finally got the film made. Beale Street was produced by Jenkins's Pastel Productions and Brad Pitt's Plan B (which also produced Moonlight and his upcoming The Underground Railroad series for Amazon) alongside Annapurna Pictures, who are also handling distribution in the US. eOne is releasing in the UK. "I knew I wanted to make this film [after Moonlight]," says Jenkins, "[and] through the awards circuit we just kept seeing these people. It was clear this group of three entities was coalescing around the film."
Limited resources
The budget for Beale Street was larger than Moonlight — which cost around $1.5m — but not by much. "We still qualify for the Spirit Awards [open to films costing less than $20m]!" he laughs. And, indeed, after speaking to Screen International, the film has garnered three Spirit nominations for best feature, best director and best supporting female for Regina King.
The modest budget meant Jenkins, his production designer Mark Friedberg and cinematographer James Laxton needed to be creative on set. "[We] didn't have an abundance of resources so we just prioritised certain things," he says. "There aren't a lot of locations. Pretty much everything is a build if it's not an exterior. James was really smart about what we needed to see for it to fly, and being shrewd about making the money work for the film."
For one pivotal scene, which sees Tish reveal her pregnancy to her disapproving in-laws, the production saved money by building her family's snug flat inside a real-life brownstone house awaiting renovation. "To make the budget work, we just gutted it and said [to the owners], 'We will do the demolition work for you, build our set and when we're done we'll take everything out'," says Jenkins, who describes the scene, featuring nine actors in one small living room, as the hardest of the film to shoot.
"[It was challenging] for a guy like me who, in his two previous films, had shot maybe two scenes with more than two people. We can't take the walls out, the actors can't sit outside the stage, everyone's just there. The trick for me, even with such tight quarters and such little time, was allowing the actors to have the space to play, to let the scene breathe and to explore and have fun. I think when you watch the scene you don't feel that challenge at all. It feels like an organic conversation that suddenly explodes."
While firm about keeping the film's 1970s setting, Jenkins hopes that the film's portrayal of institutionalised racism (Fonny is set up on a false rape charge by a racist cop played by Ed Skrein) has a contemporary relevance for audiences. "One of the earliest decisions we made was to allow the film to be set in the time period [of the novel]," he says. "To me, there was more power by allowing that to happen but still saying, 'These things are still happening today'. It goes back to the prescience of Baldwin.
"Being on set, it was clear to me how delicate it was," he continues. "Trying to strike this balance between making [the social commentary about racism] clear but still preserving the sophistication that Baldwin put in the text. Some things are just black and white. You don't want to obfuscate the actual things you are saying."
Following Beale Street, Jenkins's next feature project is likely to be aeroplane hijacking thriller The Expatriate, written by and starring Chadwick Boseman (Black Panther) for Universal Pictures. Before that, however, Jenkins will be directing all 10 episodes of Amazon Studios' adaptation of Colson Whitehead's Pulitzer Prize-winning novel The Underground Railroad.
The director has been working on the project since before making Beale Street. "I never thought I'd do three adaptations back to back to back," he admits. "But I gravitate towards things that speak to me and Colson's novel is so dense and rich that I'm really excited I get to play on a 10-hour canvas. We're in pre-production and it's going great. I should probably take a break at some point."
Cinematic expansion
The impact of Amazon and Netflix on the independent and festival landscape should be celebrated rather than feared, believes Jenkins, who remains a programmer for Telluride Film Festival. "I'm neither happy nor despairing," he says. "We're in a moment right now where the definition of cinema is expanding, not shrinking. I think expansion is a good thing. When it starts to shrink, that's when I'll despair.
"There's no doubt the margins [for theatrical] are getting tougher," he adds. "Right now the conversation is getting louder, because television represents such a wonderful opportunity to tell certain types of stories. It almost forces you into this didactic conversation: 'If we have all these small screens, why do we need these big screens?'"
That's not to say Jenkins doesn't believe cinema is still important. "With Beale Street, I am so damn glad that people can sit in a large room and watch these images of what some would say are small lives," he says.
"However, the first time I saw Terrence Malick's The Thin Red Line it was on a 13-inch TV on VHS, and I was enthralled. It doesn't fucking matter, especially to me — a filmmaker. I just want to make things. Theatrical exhibition is getting tough, but cinema will find a way."