Ireland and UK company Element Pictures is building on what could be its biggest year ever, with awards buzz around its Yorgos Lanthimos film The Favourite. Co-heads Ed Guiney and Andrew Lowe talk to Screen.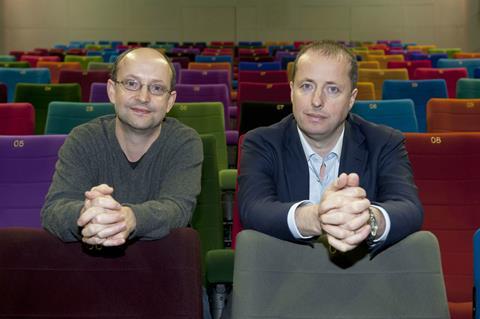 For Element Pictures, the breakthrough to international success came in 2015. That was the year the Dublin-headquartered company premiered Yorgos Lanthimos's The Lobster in Cannes, followed a few months later by Lenny Abrahamson's Room at Telluride and Toronto. While The Lobster went on to pick up an original screenplay Oscar nomination, Room made even bigger waves, earning four Oscar nods and a best actress win for Brie Larson, while grossing $35m at the global box office. "Room was transformative for us, and that made a big difference to how we go about as a business, and what the opportunities are," says Element joint director Ed Guiney.
Now with 30 full-time staff spread across offices in Dublin, Belfast and London, plus another 55 to 60 full- and part-time at its two arthouse cinemas, Element is gearing up for what could prove to be another transitional moment. Abrahamson's The Little Stranger — adapted from the Sarah Waters supernatural mystery novel — started its international theatrical rollout on August 30. The same day, Lanthimos's absurd comedy The Favourite premiered at Venice Film Festival and will go on to open New York Film Festival. Oscar buzz is building on this Fox Searchlight US release.
The Favourite tells the story of the relationship between early-18th-century British monarch Queen Anne (Olivia Colman) and her close friend Lady Sarah (Rachel Weisz), who — the film suggests — effectively ruled in her stead. At $15m, it is significantly the biggest-budget film in the director's canon, and the biggest ever for Element. It has the potential to give Lanthimos, erstwhile leading light in the so-called Greek 'weird wave', his biggest hit yet. "I think it will delight fans of Yorgos and bring a new audience to his films," says Guiney. "Until it gets out there, it's presumptuous to say that. But it's all to play for, and we're very proud of the film."
Small beginnings
Element is rooted in the early teenage friendships of three Dubliners. Guiney met Abrahamson when he was "13 or 14" and briefly dated his sister. Bonding over a love of film, the pair went on to create a filmmaking society at Dublin's Trinity College. Andrew Lowe, who launched Element with Guiney in 2001, was also in the same loose friendship group.
Today, Guiney and Lowe are seated in Element's London office, an outpost with five permanent staff that both men visit frequently. That was especially the case in 2017, since Element had three films shooting in the UK that year, all with Film4: The Little Stranger, which they produced with Potboiler's Andrea Calderwood and Gail Egan, who originated the project with screenwriter Lucinda Coxon; The Favourite, with Scarlet Films' Ceci Dempsey and former Element staffer Lee Magiday; and Sebastian Lelio's Disobedience, with Braven Films' Frida Torresblanco and Rachel Weisz.
These are the kind of titles that increasingly define Element's brand: in the words of Guiney, "auteur director-driven films of a certain scale for the international market".
The Favourite originated as a screenplay (originally titled Balance Of Power) by Deborah Davis, which Dempsey began developing around 20 years ago. "There's a whole history to this project that predates our involvement," says Guiney. "There were different directors attached who then fell away."
Magiday, who was head of development and in-house producer at Element for 10 years, brought the film into the company in 2008. Two years later, they attached Lanthimos. Explains Guiney, "We all saw Dogtooth and loved it." The partners developed the screenplay with Lanthimos, eventually calling in Australian screenwriter Tony McNamara. "When Tony and Yorgos worked together on it, it developed its own identity, and came into sharp focus," says Lowe.
While The Lobster was a famously complicated co-production pulling in finance from the UK, Ireland, France, Greece and the Netherlands, The Favourite has been more straightforward, financed by Film4, Fox Searchlight and Ken Kao's US-based Waypoint Entertainment.
Magiday departed Element in 2016. The team now sees Emma Norton and Chelsea Morgan Hoffmann running development in Dublin, with Ina Remme in London. Norton also serves as an in-house producer alongside Rory Gilmartin and Rosanne Flynn. "We recognise that, to grow as a production company, we need more producer power," says Guiney. "We have these relationships with these amazing filmmakers, but there's a limit to how many people you can work with and properly look after. Hence growing our own producer capacity."
Gilmartin and Norton have just produced Irish drama Rosie, written by Roddy Doyle and directed by Paddy Breathnach (I Went Down), which premieres at Toronto. But the Element co-heads reject the notion that the in-house producers will stick with comparatively low-budget local films, while Guiney and Lowe forge ahead with their international auteurs. "We want the producers to develop their own talent relationships," says Guiney. "That's not just about doing stuff in Ireland. It's about doing stuff here [in the UK] and internationally."
Global success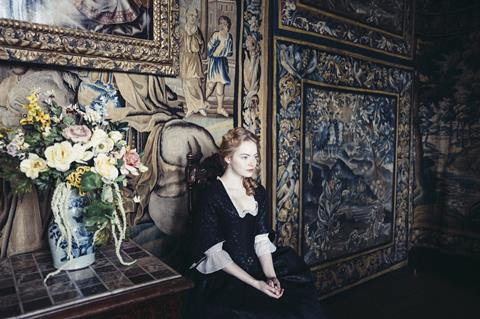 Element moved into the distribution business in 2007 with Abrahamson's second film Garage. "We had been involved as co-producers in a number of Irish films including The Wind That Shakes The Barley and The Magdalene Sisters, which we saw being distributed back into Ireland from the UK and doing incredibly well," says Guiney. "We thought, 'We should be doing that ourselves, and holding on to these rights.' Irish films can do really well in Ireland, for the size of the population. It's also a relatively cheaper market to get attention. You can have every­one know about it without spending as much money as in the UK."
The distribution arm, overseen by Lowe, hit the jackpot in 2011 with John Michael McDonagh's The Guard, grossing more than $4.5m (€4m) in Ireland. "It's still the most successful Irish film in Ireland," says Guiney. "It was a very important film for us financially."
Element is now also an exhibitor, having acquired the Light House in Dublin and the newly opened Palas Galway in February 2018. For Lowe, the horizontal expansion is about balancing risk. "It is a big responsibility running a production company with 30 people, and production is a precarious business," he says. "We are diversifying."
Element has no deep-pocketed backers, and has grown organically under Guiney and Lowe's ownership. It has benefited from slate funding from the Irish Film Board ("they no longer do it," notes Guiney) and also various forms of support from the Creative Europe MEDIA programme, but the diversification into traditionally less-risky areas seems rational. The most recent accounts filing for Element, covering the 2016 calendar year, reported staff costs of $1.7m (€1.5m) and profits of $860,700 (€756,000).
There is a further upside to the expansion. "It does give you a different perspective when it comes back to what we are producing and developing, and it has definitely informed how we do our business," says Lowe. "When you are focused on the end user, day in, day out, it just brings another perspective to the whole process of filmmaking."
Element remains headquartered in Dublin, and the partners acknowledge the upsides of making films there, including a 32% tax credit, strong crew base and the fact that, says Lowe, "Screen Ireland, formerly the Irish Film Board, is starting to restore funding to pre-crash levels." On the downside, says Guiney, "There's very little going on with Irish broadcasters."
Element's ambition is increasingly international. When discussing how it came to be involved in Disobedience, which originated with Weisz and Torresblanco in New York, Guiney says: "They needed a UK partner and they came to us — and of course we knew Rachel from The Lobster." Guiney confirms that Element's outposts in London and Belfast qualify it as a UK company. However, he explains: "[UK qualification] is just a facet of it. It's not our motivation. We see ourselves as a company making films for the international marketplace which happens to be based in London, Dublin and Belfast. And Ina [Remme] has a particular focus on looking at new films from across Europe, and trying to find new talent."
One new relationship is with Rams director Grimur Hakonarson, with whom Element is developing a new feature, The Fence, with Film4. Another is Martha Marcy May Marlene director Sean Durkin, for whom it is producing The Nest, developed with BBC Films. Also in the pipeline are new films with Lanthimos and Abrahamson, with an intention to shoot one with each director in 2019.
One strong option for Abrahamson is A Man's World — based on Don McRae's book about boxer Emile Griffith, whose knockout blow proved fatal to his opponent in a 1962 title match. The director is co-writing a draft with frequent Kelly Reichardt co-writer Jon Raymond, developed by Film4.
In television, Element's output has so far been principally for the Irish market, but its next production is for the BBC: Dublin Murders, co-produced with Kate Harwood at Euston Films and US company Veritas, and based on the crime novel series by Tana French.
Element has just hired Anna Ferguson, formerly an executive producer at Sky, as its new head of TV drama, and has "around 10" projects in development. The company views the push into television as important for its existing filmmaker relationships — Abrahamson's Normal People, based on Sally Rooney's upcoming novel, is in the pipeline for BBC Three.
"You want to be able to offer the people you work with the opportunity of doing things in all ways," says Guiney. "So if they have something that they feel is better suited to television, they can stay with us."
Those filmmaker relationships remain vital to Element's future. "If you have a filmmaker that attracts cast, that attracts finance," says Guiney. "There's a lot of interest in signature filmmakers. We try and go about making things that stick out, and pop. You have to make films that make you go, 'Oh wow.'"